WJHA Jets Alumni & Friends Scholarship winner impacted by opportunities and relationships
June 22, 2023 10:01 am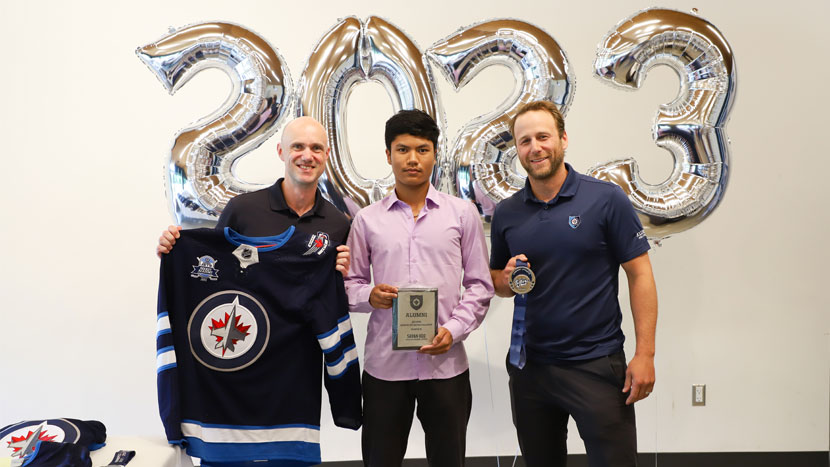 Seven years ago, Winnipeg Jets Hockey Academy (WJHA) graduating student Savan put on a pair of hockey skates for the first time. With his family originally from Cambodia, hockey wouldn't have been a familiar sport to them. Now, Savan doesn't know where he'd be without the game of hockey.
To get to this point, it's taken a lot of dedication to hard work and improvement along with strong character – traits that earned Savan the 2023 Winnipeg Jets Alumni & Friends scholarship that goes to a deserving WJHA grad each year.
Lacing up his skates for the first time is one of the memories that will stand out most to Savan from his time in the WJHA.
"I've made countless memories in the WJHA which I will always remember throughout my life. Putting on hockey equipment for the first time and setting foot onto the ice with my skates seven years ago stands out. At the time, skating on ice was a unique experience for me and I was thrilled to learn more about skating and hockey."
Savan certainly did learn much more about the sport, and his dedication to hard work really showed on the ice as he progressed to playing on a WJHA minor hockey team – something that wouldn't have been possible for him without the financial support of the WJHA.
After all his time on the ice though, it's the off-ice opportunities the program afforded Savan that will have the largest impacts on his life going forward.
"After-school activities offered me volunteering experiences in many different places in Winnipeg and helped me gain my first job at the age of 16 at Camp Manitou."
Savan still works at Camp Manitou and plans to continue to do so while pursuing a degree in Computer Science at the University of Manitoba starting this fall.
Relationships will be another element he carries with him as he leaves the WJHA.
"I fell in love with the game of hockey, especially playing with friends who I built relationships with from team practices and bonding time," Savan said. "And without coaches who would run the after-school activities and encourage me to attend, I wouldn't have the job I have."
Both those opportunities and relationships are part of what Savan considers the most important lesson he'll take away from the program.
"Your potential can become endless with the right opportunities and guidance given by the people around you. The WJHA has given me this opportunity and I couldn't be the person I am today without it."
The hard work Savan has put in to receive those opportunities, and the strong character he's shown in building relationships with peers and mentors alike made him an obvious choice for the Jets Alumni & Friends Association for their scholarship.
"We as a group started this scholarship to support the work of the WJHA and inspire students to take what they've learned in the program beyond graduation," said Jordy Douglas, Jets Alumni & Friends Association President. "Hockey can teach us so many lessons – hard work and strength of character among them – and Savan has certainly shown both of those traits in the program. Our hope is that he continues to display them in whatever he chooses to pursue in his life."
Savan knows that he will, and his advice to other WJHA students is to take advantage of the opportunities they receive too.
"These opportunities can impact your life going forward. Cherish and take advantage of them – they will benefit you in the future."