Flatlander's Beer Festival returns to Canada Life Centre June 17 & 18
May 16, 2022 10:00 am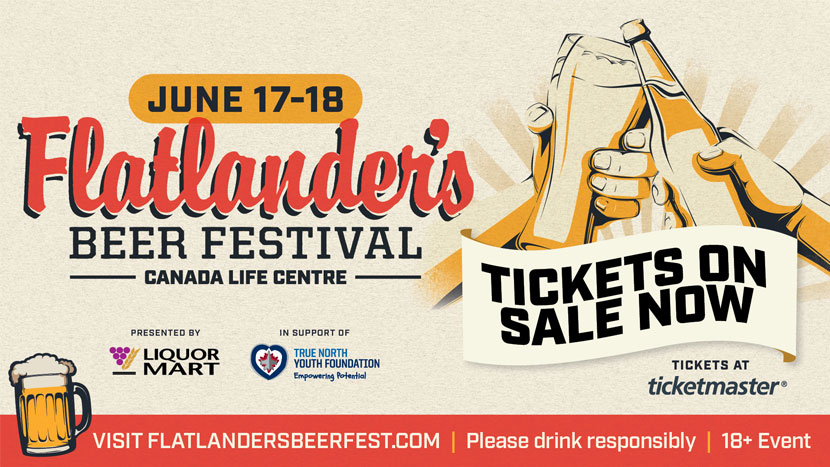 The Flatlander's Beer Festival presented by Manitoba Liquor Marts returns to Canada Life Centre after a two-year hiatus. Held June 17 and 18 in support of the True North Youth Foundation (TNYF), the event will be the festival's 18th in-person event following the presentation of a virtual festival in 2021.
More than 365 beers and ciders from 87 vendors from across the globe can be sampled at the festival, including a selection of 165 products that are exclusive to the festival, or are available in very limited release.
Tickets for three tasting timeslots are available:
• Friday, June 17 – 7-10 p.m.
• Saturday, June 18 – 1-4 p.m.
• Saturday, June 18 – 7-10 p.m.
A variety of food trucks will bring the best of street and festival fare right to event level as part of the experience.
Thanks to the continued support of Manitobans, the last in-person festival raised $175,000 for the TNYF, which has been reinvested in the youth of our community.
Tickets for this year's festival start at $49.95 (plus tax and applicable fees) and include all samples, a program, and keepsake sampling cup. Tickets will be available through Ticketmaster beginning Tuesday, May 17.
For more information on the Flatlander's Beer Festival, visit FlatlandersBeerFest.com.
The True North Youth Foundation (TNYF) is the charitable entity of True North Sports + Entertainment and of the Winnipeg Jets Hockey Club. The TNYF is relentless in pursuing its vision of empowering potential in youth by administering meaningful programs that enrich physical, social, mental and emotional aspects of a child's life. The core programs of the TNYF include the Winnipeg Jets Hockey Academy, Camp Manitou, and mental wellness program, Project 11. Over the past year, more than 70,000 Manitobans have been positively impacted by the TNYF's programming.
To learn more about the True North Youth Foundation and the impact of its programs, please watch our program videos at TNYF.ca/WJHA, TNYF.ca/CAMP-MANITOU, and TNYF.ca/PROJECT-11.