High school boys "Drop the Gloves" on inequality by donating hockey equipment to WJHA
April 17, 2021 9:30 am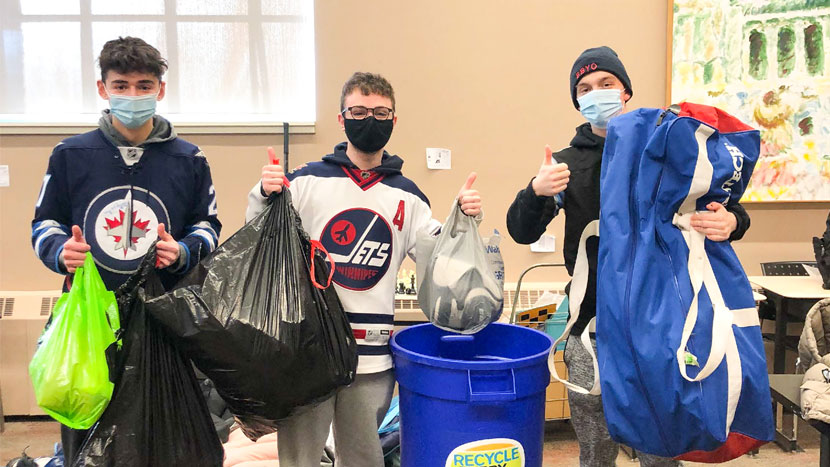 When a group of high school boys tell you they want to drop the gloves, you'd have good reason to be concerned. There's no need to worry with a group of Grade 12 students from Gray Academy of Jewish Education though – they were asking people to drop the gloves for a good cause this spring.
The only thing students Sam Brown, Michael Gurvey, Adam Kroft, and Seth Kohn are trying to start a fight with are the barriers that keep some youth in Winnipeg from playing the sport of hockey. To do that, the four started a charity they appropriately titled Drop the Gloves that invited people to give hockey equipment to be donated to youth in need of gear to allow them to participate in hockey.
The idea stemmed from the boys witnessing those situations around them.
"Growing up playing hockey, all of us witnessed at least one teammate who struggled to find equipment," said Kroft. "Just like us, these teammates wanted to play the game they love, and watching this happen to them became really upsetting. The four of us came together and ultimately decided that we need to help future hockey players in this same situation."
The four of them got to work, developing their charity name, making social media posts to attract donors, and eventually driving around to do socially distanced pick-ups of hockey gear. Gray Academy even got involved, organizing a day for the cause at school that brought in generous amounts of monetary and equipment donations.
While the cause was generating steam, the quartet had an important decision to make – where they would choose to donate the equipment once they had collected it all from the campaign.
"At first, we weren't sure where to donate our collected equipment, and after calling multiple different organizations we discovered the True North Youth Foundation (TNYF)," noted Gurvey. "We quickly learned about how the equipment is being used by kids just like us who want to play the game we all love and decided this was the perfect organization for us to be donating our equipment to."
The donation of 20 bags of hockey equipment and $290 came as a very welcome surprise to the TNYF, and in particular their Winnipeg Jets Hockey Academy (WJHA) program that will put the equipment to use. Not only will the equipment allow many more students to step on the ice, but it will help to involve youth in the WJHA's breadth of programming that engages students in their school and community, and will offer youth the tools to succeed in the classroom and beyond.
"It's so encouraging to see young people in our community taking initiative and showing generosity to those around them," said WJHA Director Murray Cobb. "We're obviously extremely thankful for the funds and equipment that these boys chose to donate to us, but we're even more grateful for the example they're setting for youth in our program. They're a great illustration of what the WJHA is trying to achieve, which is developing youth who care about their community and feel empowered to make a difference."
Drawing from their own experiences, the boys know exactly the impact that the sport of hockey can have on the lives of youth, and they want that opportunity for all youth.
"Hockey builds character and shows how important working as a team can be," noted Brown. "Every child that dreams of playing hockey should never be told they can't simply because they do not have equipment. Hockey builds memories that will be cherished for a lifetime. The thrill of scoring a goal, and the devastation that follows a loss are all memories that build an individual's character and help them turn into the person they want to be one day."
Moving forward, Brown, Gurvey, Kroft, and Kohn plan to keep the momentum of Drop the Gloves going. They'd love to make it a semi-annual campaign with collections at the start of hockey season in fall and again in spring. That isn't only exciting for them, but for youth around Winnipeg who can't wait to lace up the skates.
"Through this unprecedented year, we've realized there are always ways we can make a difference in people's lives," said Kohn. "We look forward to getting Drop the Gloves and hockey up and running again."