A hop, skip and a jump
March 10, 2020 9:56 am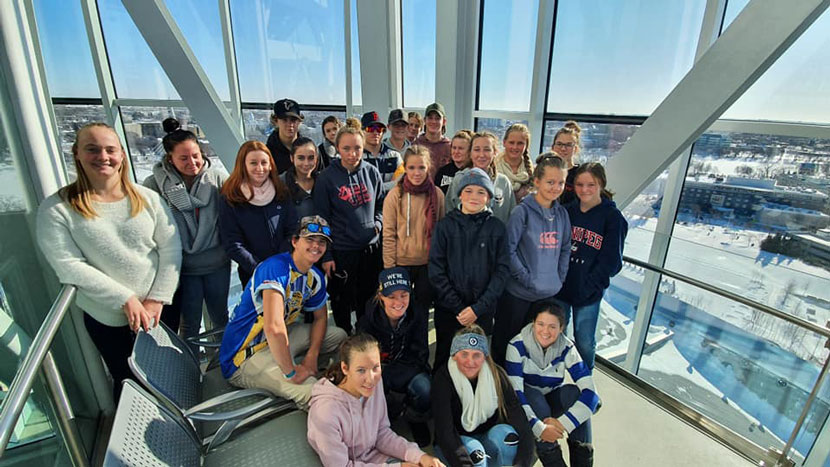 In 2014, Matt Edwards came from the other side of the world to teach in Winnipeg. Through a unique teaching exchange program, the Australian teacher swapped houses and jobs with a Winnipeg teacher at École Leila North School and since then he's wanted his students back home to experience the heart of Canada he fell in love with.
"I've been back three times because of the people I met. Everyone is so welcoming and nice and for a lot of these kids, they've never been on a plane or they're the first in their family to have a passport and I thought this would be an experience they'd never forget," says Edwards.
Five years later, Edwards finally made that dream come true when he, few other teachers, and 25 high school students packed their bags in Baradine, New South Wales, Australia for a six-hour bus ride to Sydney and began their long trip to Winnipeg, where temperatures can be virtually polar opposites.
The first of their two weeks in town was spent in the cabins at Camp Manitou where there were many opportunities to embrace the snow. Any trepidation about the weather or being so far away from home quickly melted away.
"We really didn't know what to expect, but we've had tons of fun so far," says Grade 12 student Maddy after four days in Winnipeg. "We've loved staying at (Camp) Manitou. We've gone skating and played in the snow and hopefully we try cross-country skiing."
"Some of the kids were pretty hesitant to spend that much time outside but I knew it would make for a great story they could tell for a long time. I'm really impressed with how they've embraced the cold and stayed in good spirits the whole time," says Edwards.
When Edwards came to Winnipeg in 2014, he met Suzi Friesen, now the Director of the True North Youth Foundation's Educational Programs, and the two have stayed connected for the past six years.
"Suzi showed me what Project 11 was all about and what they have accomplished in Manitoba and I thought it was incredible," says Edwards, who knew that Project 11 was something he wanted to incorporate into the students' visit.
According to the Baradine teacher, the closest mental health resource Australia has for its students is "a few websites they can poke around on to see what kind of resources are out there if they want help, but a curriculum like Project 11 would be incredible to have."
Project 11, a free proactive mental wellness program for classes in Kindergarten through Grade 8, has been embraced by more than 1,400 classrooms and continues to grow each school year.
Friesen led the students through a meditation exercise to relieve stress – an activity that Edwards would like to see adopted in his school. A few of the students asked him if they could do similar exercises during stressful times of the school year, such as exam period, showing a definite need for mental health awareness and practices within the school system.
The students spent their second week in Winnipeg hosted by École Leila North students and their families – the same group who initially met the students at the airport with "trolleys of warm clothes" to help them acclimatize.
They made the most of their time in Winnipeg, taking in a number of sights, landmarks, and activities including the Feb. 11 Winnipeg Jets vs. New York Rangers game where a few Aussies lost their voices from cheering so loudly.
Maddy summed up the group's experience.
"It's really amazing. It's such a pretty town but it's bloody cold."