WJHA creates a welcoming space for diversity
February 16, 2022 12:06 pm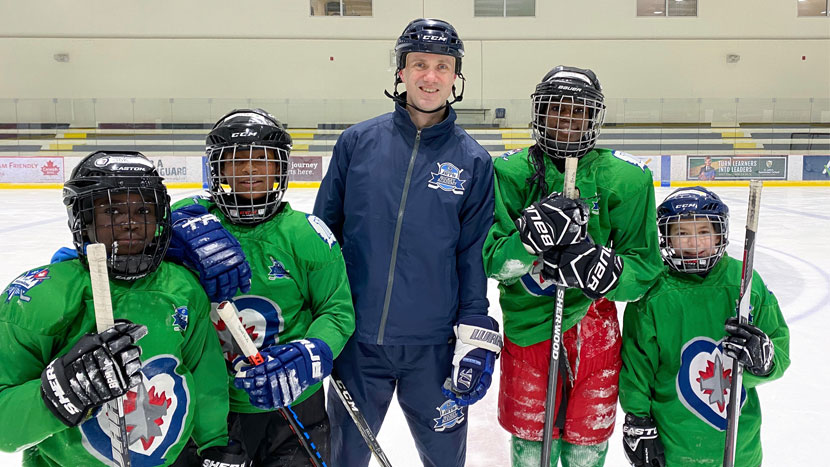 Hockey isn't a very common sport where 11-year-old Winnipeg Jets Hockey Academy (WJHA) student Dara is from. Ice and skates aren't something you would regularly see in Nigeria, so Dara had never even heard of hockey prior to coming to Canada.
When she moved to Winnipeg, though, hockey was hard to miss. Whether on outdoor rinks or through Winnipeg Jets fans at every corner, hockey really is everywhere. For Dara, her introduction to hockey came through her school when they invited her to participate in hockey through the WJHA.
"The first time I played hockey, I was confused and afraid I was going to fall, but I was interested in skating and moving on the ice," said Dara. "I fell many times but got better moving on the ice each day with continuous practice."
Dara's parents, Steve and Ether, were just as new to the sport as she was three years ago when she first started.
"We were very surprised to see her play hockey because where we come from, she was more of a sprinter," said Steve. "She's been taught how to skate from level zero to where she is today, and she understands the rules and dynamics of the game."
Clearly, one of the beautiful things about hockey is that you don't have to grow up in a snow-laden country to play the sport. Anyone can learn the skills of passing, shooting, and stickhandling when given the opportunity, and Dara has done just that over her three years with the WJHA, where she now plays on one of their minor hockey teams. She's not only learned to skate, but she's spent time learning to play between the pipes as a goalie too.
"My favorite hockey skill to work on as a goalie is using my skate to push myself to the other side of the post and make my butterfly stance," Dara elaborated. "As a player, my favorite skill is working on skating faster and shooting at the net to get a goal from any angle of the rink."
That opportunity for Dara to learn the skills of hockey, and more importantly be a part of a team, has meant the world to Dara's parents. Though they took notice that she was the only Black girl on her team when she joined, any concerns they may have had were quickly laid to rest when they saw how inviting the program was for youth of any background.
"As a Black girl, she was welcomed into the WJHA, given privileges as others, and allowed to express herself. She is always looking forward to her hockey practices and games," said Steve.
With February being Black History Month, Dara has been learning about the achievements and contributions of Black Canadians in school. It's showed her that though our country is culturally diverse, when we put our differences aside and come together as a team, amazing things can happen.
Dara has seen that play out on her hockey team too. Though she may speak with her parents in their native dialect and cook traditional Nigerian dishes at home, she can come together with youth of other cultures to bond as a team and celebrate what each individual brings to the game.
"The WJHA has taught me team spirit – we all worked towards winning the game together. Even as a goalie, when we lost most of our games, the entire team kept encouraging me, which made me push to be even better."
Dara's parents would love to see that continue to grow not just in the WJHA, but throughout the entire hockey community.
"Continue to allow different races to come into hockey and express themselves freely," said Steve. "This will continue to encourage Black people to leave their shells and feel loved, thereby allowing them to participate in the hockey community."
The WJHA has been on that journey from the start and has no plans of straying from that goal. Their efforts aim at not just having their staff and volunteers be welcoming to all youth who want to participate in the program, but also having each of their participants display that attitude of acceptance to all their teammates and peers.