#HockeyTalks month – In-class lessons, discussions with Jets players highlight importance of human connection for high school students
January 25, 2023 9:00 am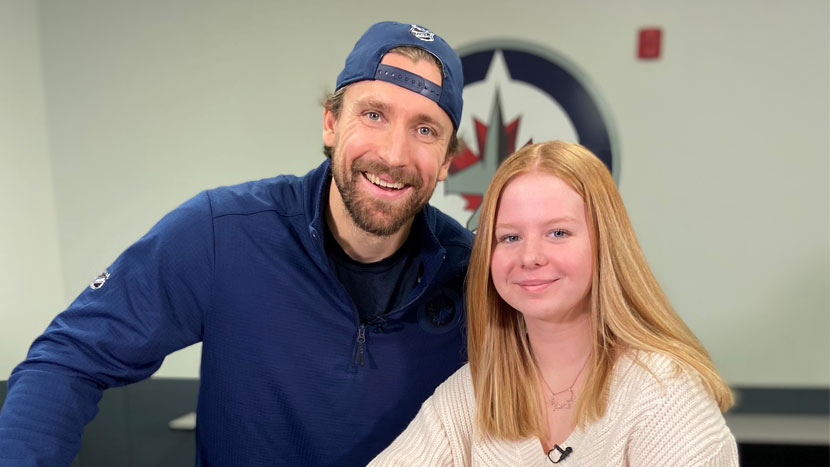 "Humans need humans."
These words from Evan – a Grade 10 Maples Collegiate student and Project 11 student – are simple, but they cut to the heart of Project 11's mental wellness messaging and the #HockeyTalks initiative that runs throughout January and promotes conversations around mental health.
The fact that Project 11 and #HockeyTalks promote conversations around mental health speaks to the importance of human connection when it comes to taking care of ourselves, and that message has come through loud and clear for high school students who have been able to partake in the pilot of Project 11's high school program.
"When we start the conversation around mental health at a young age, it becomes part of healthy self-care and healthy relationships, and we can all benefit from it," said Evan. "We are creating a healthy community with acceptance and understanding."
Having those discussions in the classroom is one important part of the process, but Project 11 has given high school students other special opportunities for conversations about mental wellness through the #HockeyTalks initiative. Several Project 11 high school students, including Evan and Grade 12 Oak Park High School student Kiera, had the opportunity to talk with Winnipeg Jets players about the topic and how they care for their own well-being.
Kiera got to speak with Jets forward Blake Wheeler, and his take on social media and connecting with others resonated with her.
"He talked about how he has no social media accounts anymore and he prefers being present and in the moment with his friends and family rather than scrolling on his phone all the time and focusing on the negative comments or negative things that come with having social media accounts."
As someone who's grown up with social media, Kiera knows how the various platforms can take a toll on one's self-confidence and mental health, and how it can take away from real connection.
"I agree with him that it's much better to be present with people and to really be in the moment rather than always being on your phone scrolling, losing track of time, and not truly being present with people."
Evan also took plenty away from connecting with Jets players over mental wellness discussions.
"It was nice to sit down and talk with the Jets players and realize they are just human beings like us and they have similar struggles as us," he noted. "I think it's important to show people that a healthy body doesn't just mean the skills the players bring to the ice and muscles and strength. To be successful and happy and healthy, you need to make sure your whole body is cared for and that includes your mind. The mind is the control centre of the body, and if it isn't running healthy and happy, the rest of the body can't reach its full potential either."
So if you need help, talk to someone. If someone needs your help, give them the time of day and a listening ear. Even if your mental health is in a good place, connecting with others is an integral part of maintaining that.
To learn more about the Winnipeg Jets #HockeyTalks campaign, visit WinnipegJets.com/HockeyTalks. For more details on Project 11, visit ProjectEleven.ca.