Welcome to Winnipeg introduces new Canadians to winter sports
January 13, 2020 4:21 pm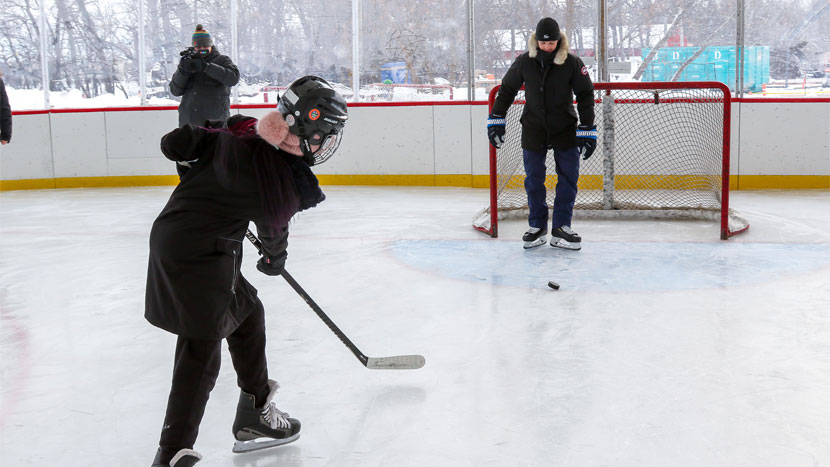 Despite temperatures nearing -30 degrees Celsius, a group of Canadian newcomers received a very warm welcome to their new home on Saturday, Jan. 11. The welcome for a group from the Immigrant and Refugee Community Organization of Manitoba (IRCOM) didn't come from the frigid weather of course, but from the friendly staff at Camp Manitou for the Welcome to Winnipeg event.
For the third straight year, Camp Manitou – owned and operated by the True North Youth Foundation (TNYF) – put on the Welcome to Winnipeg event, which introduces Canadian newcomers to outdoor winter activities.
For many of these newcomers – the majority of whom were from African nations like Sudan, Ethiopia, and Syria – few of them have ever seen snow, let alone experienced the bone-chilling temperatures that January can bring on the Canadian prairies. Though Winnipeg's climate varies greatly from what these immigrants are used to, this is their new normal and Canada is their new home.
"We came today to give the families the opportunity to experience the cold, and also try some new Canadian sports," said Mohamed Mohamed of IRCOM. "Fifty percent of them have been in Canada for less than eight months, but the kids are learning very fast."
The cold didn't seem to phase the participants too much. Not only were they out trying the activities, but it was hard to wipe a smile off their faces.
"It's cold but it's fun," said 10-year-old Salma Arounia, originally from Venezuela. "You get to learn new tricks and you also get to exercise."
The hope is that the program goes beyond just acclimatizing the newcomers and teaching them how to skate. The fact is that a new place may not feel like home until you are surrounded by a supporting community, and that can certainly be the case for Canadian newcomers.
The TNYF knows as well as anybody that recreation is a great avenue to facilitate a sense of community, which makes the Welcome to Winnipeg event so important. By introducing these immigrants to winter activities like skating, tobogganing, and cross-country skiing which are ingrained in Winnipeg and Canadian culture, the activities serve as a great way to make friends.
"A lot of them have made that commitment to move their families to Canada," said Rick Bochinski, Director of Camp Manitou, of the newcomers. "To experience something that we experience when we're young, obviously in this climate, it's great for them to learn this is what it's like in our wintertime. You can stay inside and play video games and watch TV all day, or you can embrace it and enjoy the winter activities."
As an extra welcome, Winnipeg Jets defenceman Josh Morrissey joined in on the action for part of the day as the participants tried out skating on the rink. Morrissey served as not only a great skating coach for the participants, but as an advocate for the power of sport.
"So many of the friendships that I made as a kid were through sports, and I feel that you learn so many lessons and life lessons," said Morrissey. "It would be really cool to see one of these kids go on to maybe play in the NHL one day, but I think just the fact that they get to be involved in sports and that team atmosphere, I think that's a great thing."
Having partnered with other immigrant organizations like Welcome Place and Entry Program, Camp Manitou hosted three other groups over the Jan. 11-12 weekend and will again welcome groups on Feb. 8. To give the newcomers an even warmer Winnipeg welcome, each participant will also receive a ticket to an upcoming Jets game and a $50 Jets gift card.
Check out the JetsTV video on the Welcome to Winnipeg event HERE.