Teamwork lessons will carry WJHA graduate forward
July 12, 2023 12:46 pm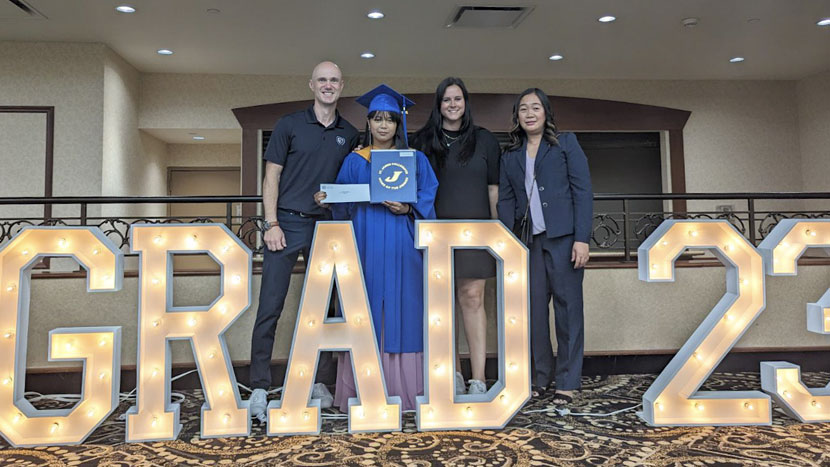 Margaret, a 2023 Winnipeg Jets Hockey Academy (WJHA) graduating student, has received numerous individual awards in her nine years with the program.
It started with being named her team's most improved player in her first season of minor hockey in 2013-14. The next season, she won her team's MVP award.
But the biggest lesson she'll take away from the program isn't one centred around personal achievement – its about the importance of a team.
"During my time in WJHA, I've really benefitted from working with a team – how to play with others and communicating on our plays," said Margaret. "Meeting new teammates and developing a bond were my greatest benefits as part of the program."
For her, it's the most important lesson she'll take with her from the WJHA, and one that will undoubtedly serve her well down the road.
"You can't win a game by yourself, but together you can," Margaret continued. "No matter how hard you try and push yourself, you always need a teammate or two to score one goal. This lesson has helped me understand that teamwork can bring everybody together for a common goal."
That statement is true on the ice, but also when it comes to graduating high school and succeeding beyond that. That's why it's so important for the WJHA to be on the team of the youth that they work with each year, assisting them in schoolwork and teaching them many life lessons along the way.
For Margaret, the program has brought her further than she could have imagined. Right from her first time on the ice – which resulted in her wiping out – to her final hockey game with the WJHA and walking across the graduation stage, the program has made impacts on her in ways that she never knew it would.
"I am a Filipino female playing a sport that not a lot of people would think I would play since the main sport in the Filipino community is basketball. But I love it!" said Margaret. "The after-school program left me with memories and friendships that will continue after graduation. I enjoyed every minute of the trips and people that were involved."
None of it would have happened without a willingness to try something new on Margaret's part. Though it took some time for her to adjust to being in the program, she can now see how much it's impacted her.
"I would like to tell my younger self that it's okay to try new things even though we may not like them at first," said Margaret. "I was scared of trying new things because I like things the way they are. Thanks to my parents, especially my mother, I've overcome that fear and now I'm not afraid of trying new things."
That's something WJHA Director Murray Cobb loves to see in the students of the program. Watching kids enter the program as timid newcomers in their younger years and seeing them develop into confident young adults is one of the great pleasures of his role.
"It's really quite amazing to see the amount of growth in our students from their first on-ice session to graduation," said Cobb. "That's in large part credited to the amazing coaches we have that work with these youth every week and build relationships that help bring out their personalities. But it's also thanks to the students for trusting us and being willing to open up. Margaret was one of those students who started out a little reserved, but now she's on her way out of the WJHA as an inspiring young woman with so much potential."
With plans to study law in university, specifically criminology at the University of Manitoba, the WJHA knows Margaret has a promising future ahead where she'll be able to impact many people in her life.
Whatever team she's on, she'll be an important part of it.