Celebrating Asian Heritage Month: The sky's the limit for Filipino WJHA goalie
May 18, 2021 1:39 pm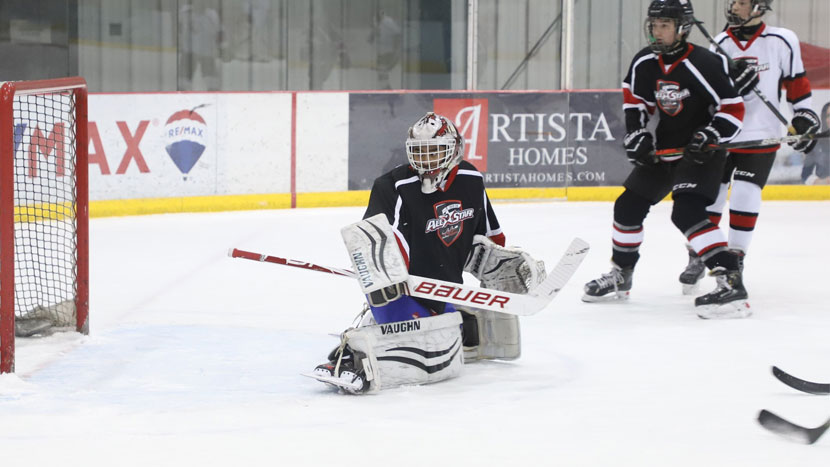 Adjusting to a new country, a new culture, and a new way of life isn't easy. That transition becomes much easier, though, when new Canadians are given an "in" to being involved in the community.
For WJHA student Ron, who moved from the Philippines to Winnipeg in 2011 with his family, that "in" was hockey.
His introduction to hockey came through the Winnipeg Jets Hockey Academy (WJHA).
"When I joined the WJHA, it was a diverse group," said Ron, who joined the program in 2014 when he was in Grade 3. "I saw how the staff treated kids with open arms. At that point, I felt like this program was going to help me shape the person I could become."
"It meant so much to our family," added Ron's father, Ruben, on the WJHA being a welcoming presence for their family. "We felt the support from the start; everyone's welcome. Ron had zero knowledge about hockey and was new to the community, and he was accepted. The WJHA provided a lot of opportunities, not only in hockey, but with regards to acceptance in our community and belonging as newcomers from the Philippines."
As any Winnipegger could attest, perhaps the quickest way to experience Canadian community is to pick up a stick and puck and join in on a game of shinny. That certainly proved true in Ron's case.
"The main sport in the Philippines is basketball because it never snows or gets cold," noted Ron. "The fact that I came to Canada and learned the sport of hockey at a later age is truly a blessing. Now hockey is my life."
He means it too. Seven years later, hockey has become much more than just a way to make friends and acclimatize to Canadian life. After being introduced to hockey in 2014, Ron switched to playing goalie full-time in Grade 6 when he played his first season of minor hockey with the WJHA U13 A3 team. By 2018, he had moved up to play A1 hockey with the U15 St. James Canucks. In 2019, he moved up to AA hockey and was named a league All-Star and his team's most valuable player. This year, Ron was one of three 15-year-olds to make the AA U18 St. James Canadians and was invited to the Manitoba Junior Hockey League's OCN (Opaskwayak Cree Nation) Blizzard identification camp in July of 2021.
"For Ron to make the jump all the way to AA hockey despite being exposed to the sport at a later age than most shows the amount of hard work and dedication he's willing to put into the sport he loves," said Murray Cobb, WJHA Director. "Ron has always been eager to learn the proper technique and skills needed to succeed as a goalie and he is remarkably diligent in making sure he masters the skills being taught. He's also willing to put in the hard miles needed to succeed, which is illustrated by his daily routine of waking up hours before school to get in a run and workout."
For Ruben, his son's work ethic to excel as a goalie doesn't simply come from a mentality of wanting to succeed on a personal level; it comes from a pride for his Filipino heritage, and to show that cultural differences are no barrier to thriving in hockey.
"We are proud of our Filipino heritage by showing how we work hard for what we want to become," said Ruben. "We would like to impart that to our children for their future to be a good and successful part of our community."
That's a mission the WJHA has been on since its inception. Hockey has been the vehicle to much greater impacts off the ice, where students have experienced the influences of the program in their grades at school, their ability to find jobs after graduation, and their efforts to contribute to their communities.
Grateful for the opportunities he's had, Ron also makes time to share some of what he has been given.
"Ron has a desire to be a leader in his community, and he puts in the same efforts needed to develop those skills as he does in hockey," continued Cobb. "Already, Ron has given back to the True North Youth Foundation as a volunteer at Camp Manitou and has worked as a goalie coach for the St. James Assiniboia Minor Hockey Association. Without a doubt, Ron will continue to climb the hockey ladder while also making the sport more welcoming to those from a variety of backgrounds. He's one of those rare athletes who is driven to succeed on the ice while being equally driven to help others succeed in life."
As evidenced by Cobb's comments, the WJHA knows Ron has a bright future, regardless of where that future takes him.
"They believe that if I keep working hard at this pace, the sky is the limit for my potential," noted Ron.
His father sees that potential blossoming both on and off the ice too.
"The WJHA has helped Ron reach his goals, and support from the staff and coaches has helped him hone the skills that he continues to improve on, whether in being a goalie or with his academic learning. The greatest benefit for Ron will be his ability to manage his time for school and hockey. He has become a very responsible student and the skills he's learned from the WJHA have brought out the best in him. He became motivated and started to dream big and work hard for it."
Seeing the success Ron has found is fulfilling for the WJHA, who work to ensure that cultural background and socio-economic status are no barrier to opportunity, whether in hockey or otherwise.
That's a message Ron carries to others now too.
"It shows that no matter what skin colour or background you are, you can truly do anything you desire in life as long as you put hard work and dedication in anything you desire to do."