Bigger pots, more winners with TNYF playoff 50/50 draws
May 19, 2021 1:30 pm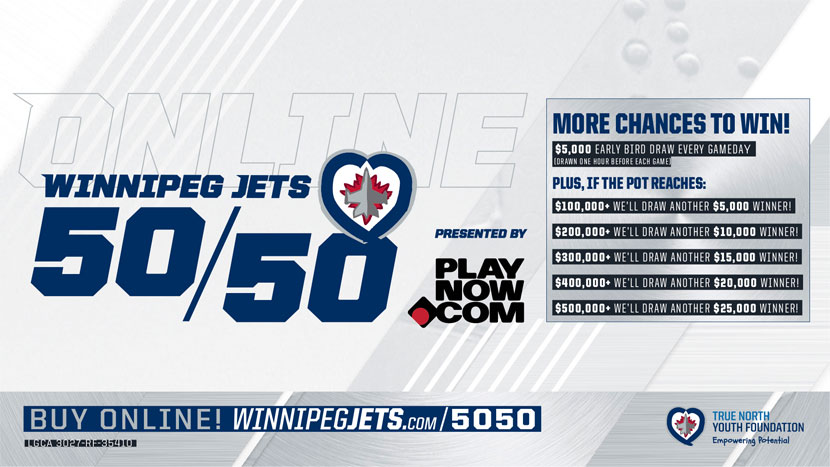 In the Stanley Cup Playoffs, it's all about winning – and the True North Youth Foundation (TNYF) is making sure more Manitobans will be winning through their playoff 50/50 draws.
With the playoff 50/50 draws, the bigger the pot gets, the more winners there are. As with regular season 50/50 draws, a winning number will continue to be drawn for half of the pot. In addition to the regular draw, additional draws will take place at $100,000 increments in total ticket sales.
If total sales for a game's 50/50 draw reach $100,000, a second winning number will be drawn for a prize of $5,000
If total sales reach $200,000, a third number will be drawn for a prize of $10,000
If total sales reach $300,000, a fourth number will be drawn for a prize of $15,000
If total sales reach $400,000, a fifth number will be drawn for a prize of $20,000
If total sales reach $500,000, a sixth number will be drawn for a prize of $25,000
On top of the extra draws, there will be a $5,000 early bird draw on each playoff gameday taking place one hour before puck drop. All ticket purchasers who have bought 50/50 tickets for that day's game prior to one hour before game time will be eligible for the $5,000 prize. Winning the early bird draw does not exclude winners from the main 50/50 draw or the additional draws mentioned above.
TNYF playoff 50/50 ticket sales start at 9:30 a.m. on each gameday and close at the end of the game, or at the end of the first overtime period – whichever comes first. Tickets can be purchased at WinnipegJets.com/5050 and the winning number(s) will be posted at the same page no later than one hour after ticket sales close.
The added playoff draw bonuses won't just create more 50/50 winners; the more tickets purchased, the more at-risk Manitoba youth will also benefit, as more than 70,000 Manitoba youth continue to rely on the TNYF and its enriching educational, sports-based, and character-building programming through the Winnipeg Jets Hockey Academy (WJHA), Project 11 and Camp Manitou.
"We're so grateful to have such loyal fans who have committed to purchasing 50/50 tickets this season even though they haven't been able to step inside Bell MTS Place to watch Winnipeg Jets hockey live," said Dwayne Green, Executive Director of the TNYF. "Our supporters are real game changers for us, and in the same way that a crucial playoff goal provides our Jets with momentum, our supporters' contributions this post-season will continue to give our foundation momentum too."
Despite the 2020-21 season being a challenging one for the TNYF in which they've had to adapt programming to public health restrictions, they've continued to find ways to make meaningful impacts in the lives of the youth they serve. WJHA students continue to rave about their coaches and tutors who have gone above and beyond to make sure students continue to thrive in the classroom and away from it in what has been a most challenging school year for students. Project 11 students continue to learn valuable lessons about mental wellness in a time when the topic is as applicable as ever through regular classroom programming and all-new Project 11 Mental Wellness Summit material. Camp Manitou continues to prep for a summer where they can safely offer youth a place to escape, make new friends, and develop skills they aren't able to elsewhere.
To purchase TNYF playoff 50/50 tickets, visit WinnipegJets.com/5050.
For more information on the TNYF and its work, please watch this video: https://www.nhl.com/jets/video/true-north-youth-foundation/t-277443454/c-46373503