We're in this together: Winnipeg school divisions encourage all teachers to implement Project 11 during pandemic
June 1, 2020 1:30 pm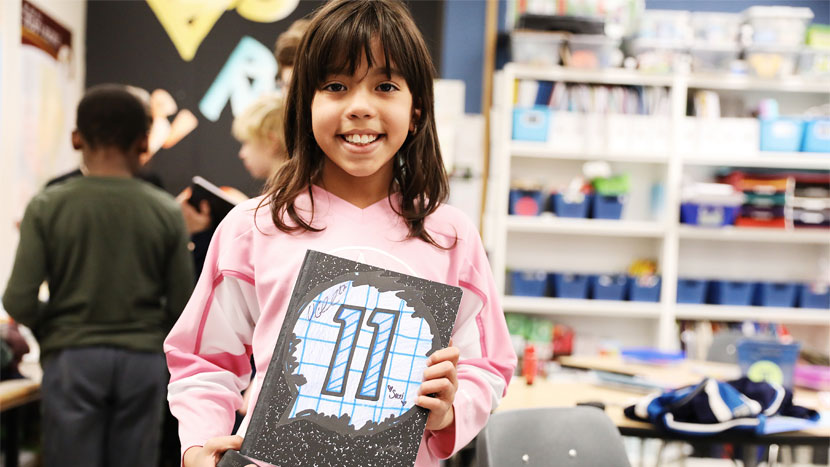 The phrase "we're in this together" has become a popular one in recent months, as messages of unity have brought people together in the fight against COVID-19.
To the True North Youth Foundation's (TNYF) Project 11 program, "we're in this together" has been a sort of rallying cry for years as the team has worked to destigmatize conversations around mental health. There is perhaps nothing more important than ensuring that people know that they aren't alone when it comes to dealing with mental health.
In this time of physical distancing which can bring up feelings of loneliness and anxiety, the discussions around mental health have been emphasized, and naturally Project 11 has seen significant interest in their program from teachers, schools, and school divisions alike in Manitoba.
"Mental health is definitely a priority, especially right now," said Kerri Waldbauer, Education Programs Coordinator with Project 11. "These are challenging times that everyone is going through, so teachers, principals and superintendents are recognizing that and wanting to provide extra supports for their students."
Educators and administrators seem to agree that being in it together is the right approach for their students, as it is not simply individual classrooms that are seeking out Project 11's programming. Several superintendents are encouraging all teachers in their school divisions to use this time of distanced education to get trained by Project 11 educators and implement it in their classroom if they haven't already.
Four Winnipeg school divisions including River East Transcona, St. James-Assiniboia, Seven Oaks and Louis Riel have all taken that route, with Pembina Trails having initiated plans for the same this fall.
"We as a division can encourage teachers to take the Project 11 training, but the fact that so many teachers have signed up and participated from the pilot phases and integrated it into their classrooms over the years is a testament to the program," said Brian O'Leary, superintendent of Seven Oaks School Division, which has been involved with Project 11 from its inception in 2012.
Though Project 11 had already trained more than 1,700 teachers since 2012, it has trained 500 more teachers since schools started teaching remotely during the pandemic and several more training sessions are still scheduled.
Project 11 of course appreciates that school divisions are making mental wellness a priority, and that they see value in having as many classes as possible integrating those lessons into their learning objectives.
"We know that school divisions generally outline a mission for teaching and learning at the beginning of their school year that defines their values and vision for education," noted Waldbauer. "Mental health education is usually included as a priority, and divisions are finding that Project 11 is a natural fit."
Project 11's curriculum has grown over the years from being offered only in Grades 5 to 8, to now being offered in early years from K-4 as well. That breadth allows school divisions to encourage many of their teachers to participate, and with a high school curriculum in the works, even more teachers will soon be able to participate.
The ability for students to progress through the program is a big advantage in the eyes of River East Transcona School Division superintendent Kelly Barkman, in the fact that it has everybody speaking the same language.
"It's more important than ever to use a comprehensive school health approach that takes mental health into account," said Barkman. "With Project 11, there are daily lesson plans, overall planning, common language, and a common strategy. That's an important piece of teaching and learning. When the kids are recognizing the language and the strategies you use, it leads to solutions and dealing with any problems that may arise much faster."
That makes it even more important that it isn't just teachers that are being trained by Project 11, but also support staff and administrators. The more adults that kids have to reach out to and talk to, the better said Waldbauer.
"School-wide training adds the extra benefit of having a common language and a common understanding among both staff and students, and students know that they have more than one adult that they can talk to. We've had not only teachers attend training sessions, but also educational assistants, support services staff and administrators, and we know that it's not always the classroom teacher that a student will reach out to in times of need. It's important for students to know that they can reach out to anyone in their school community when they need to talk."
Perhaps most importantly, points out O'Leary, is that the program shapes students so that they not only have the courage to reach out to adults, but they can also be resources for their peers to reach out to as well.
"I really like that over the years of the program, it moulds the whole class as opposed to identifying certain students and telling them that they have an issue and they need to go seek help. One thing we know about adolescents is that they are far more likely to reach out to a friend than to an adult. I think Project 11 helps schools create broad networks of kids that can recognize when a friend is having a difficult time."
With students learning from home at this time, the lessons of Project 11 have been spilling beyond the classroom to parents as well, and students have been able to be a resource for parents who might be struggling with juggling work and assisting their kids with schoolwork, among many other challenges right now.
"We've been checking in to see how kids and parents are doing during this time, and there have been some comments about mental health and the pressures of homeschooling," said Barkman. "The kids have actually been talking about some of the strategies of Project 11 with their parents, as parents are feeling the anxiety to get things done. There is teaching and learning going both ways with children and parents on mental health, and that is neat to see."
Those interactions are at the heart of Project 11's goals. Though Project 11's curriculum is taught in schools, having those discussions spill over into the rest of life for students is integral.
"Having so much participation in Project 11 in our province means that there are many conversations taking place about mental health and that more and more, it's becoming a part of everyday conversation in classrooms and at home," said Waldbauer. "It's encouraging to know that so many students are learning and practicing healthy coping skills that will help them throughout their lives."
Whether you're a student, teacher, principal, superintendent, parent, or fall into any other role, we all need to be in it together when it comes to mental wellness.
For educators or administrators looking to get their classroom or school involved with Project 11, please visit ProjectEleven.ca/REGISTRATION.
For parents looking for resources to share with their kids during this time of homeschooling, please visit ProjectEleven.ca/RESOURCES.