WJHA's lessons put into practice as students graduate and move on from the program
June 24, 2020 4:10 pm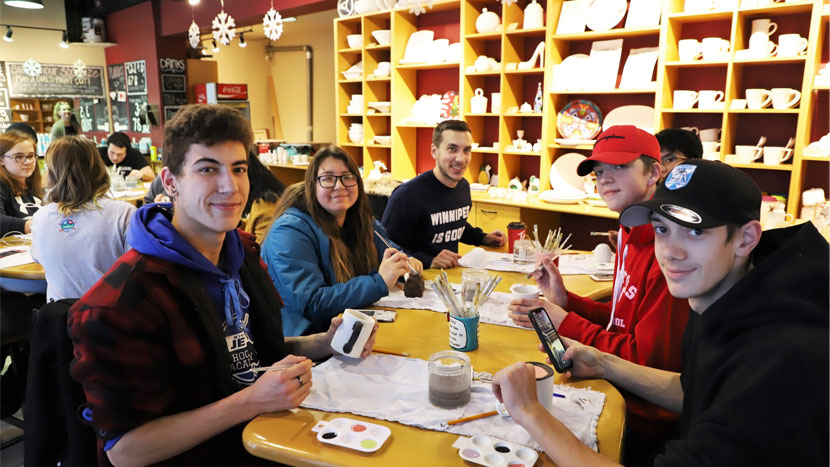 Pictured: A group students from St. James Collegiate Institute participate in the WJHA's after-school program as they create their own ceramic mugs at Brush Fire Ceramic Studio in Winnipeg – one of the many activities the after-school program provides.
With the end of June comes the end of another school year. Though this school year was much different than most, high schools are again bidding their graduating classes farewell.
The same goes for the Winnipeg Jets Hockey Academy (WJHA). A group of their students whom they have gotten to know through on-ice sessions and after-school programming are now moving on to the next phase of life.
For St. James Collegiate Institute (SJCI) and Kildonan East Collegiate (KEC), several of their grads are graduating both from high school and the WJHA program. For both schools, these students mark their first group of grads who have been with the WJHA program since Grade 5.
That point may seem relatively insignificant until you hear the reactions from the students on how much the WJHA has meant to them over the years, and how the WJHA staff have helped them throughout high school.
"I keep wanting to come back to the WJHA because of the great staff and also the opportunities provided to students," said Jersey, a WJHA grad from SJCI. "The staff are friendly and easy to talk with. They really are the type of people who want you to succeed."
"All the WJHA coaches are very nice and always helpful, so they made me want to keep coming back," added Clara, another SJCI grad. "They always made sure we were having a great time, and I sure did."
No matter which WJHA student you talk to, the reason they love the program always seems to revolve around the staff and the difference they have made in these youth's lives.
"When I screwed up or got upset at school, one of the WJHA staff members would teach me to remain calm, and that everything would be okay," added Thomas, a WJHA student graduating from KEC.
The connections that WJHA staff make with their students are significant ones. Though their schools obviously play a big role in their development and have prepared them for success after graduation, the relationships that the WJHA staff are able to build with the students are integral, and it's all possible because of the multi-faceted approach of the program.
The WJHA offers many connection points for students, such as on the ice through its own programming and through the St. James Assiniboia Hockey Academy (SJAHA), a Hockey Canada Skills Academy (HCSA) that is run in the St. James Assiniboia School Division. They offer more connection points through tutoring services, their after-school program, and other extra-curricular opportunities like field trips, volunteering and work experience programs that expose students to careers available to them.
For some, those WJHA relationships, whether formed on the ice or off, might be what is keeping them in school; for others, WJHA staff might be helping them get that mark they've been striving for. Regardless of how they are helping each student, it's a program where kids can put their trust in the staff and it's a place where they can feel at home.
"I truly believe in the notion that it takes a village to raise a child," said Lorelei Steffler, principal of SJCI. "The WJHA team that we work with, they knew these students long before they arrived in high school and we have had an incredible partnership with them, and they're a very welcome addition to the 'village'. They've been instrumental in helping these kids in as many ways as possible to get across the finish line."
Naomi Sparrow, a school counsellor and WJHA champion at SJCI, agrees and has seen the difference it makes to students when they know that they have a community of people who are rooting for their success.
"It has been a good way for students to know that there is someone other than their teachers who cares about what they are doing at school," said Sparrow. "The hockey piece has been really good at keeping some kids even wanting to come to school. Being involved with something outside of school seems to be really valuable for a lot of the kids."
Though the WJHA program ends after Grade 12, the hope is that the impact continues for years to come for these students. Keeping kids in school and helping them graduate may be a main focus for the program, but that is only the beginning of the journey for these students. The tools, knowledge, and advice that the WJHA gives to kids throughout the program will hopefully stick with them for a long time.
"The WJHA has presented me with many opportunities that not only helped with school but also with life skills," said Jersey. "I've made many more friends through the various programs. I've also learned skills that extend beyond hockey and that I've implemented into my own life."
"Keep your head up and never give up, and give 210 percent effort every minute and every shift," noted KEC grad Skyler on a lesson he's learned from hockey. "And keep accepting pointers from the coaches."
That particular lesson may have been learned on the ice, but it's easy to see how valuable that type of mentality will be throughout life.
Sparrow hopes the students take in the life skills and opportunities the WJHA has given them and use them to their full advantage.
"I hope they take some of the skills that the hockey academy has taught them over the years. I've been able to watch them do resume writing, interview skills, team building and group work. Through all of that, they've earned valuable personality skills and real-world connections that they can bring into the classroom and beyond."
Indeed, some students have already been able to take advantage of the opportunities, with some getting jobs within the True North Youth Foundation (TNYF) family.
"The after-school program helped me get my first job at Camp Manitou last year," said Clara. "It was so fun and I really enjoy working there. I am looking forward to working there again this summer."
Each student's path away from the WJHA will no doubt look very different, but Steffler hopes that the example set out by the program's staff is one that this first group of WJHA grads from SJCI and KEC is one that they follow for the rest of their lives.
"I hope the students can appreciate the connection between sports and success, as well as a connection with sports, hard work, commitment and those types of attributes that go along with everything the WJHA stands for," said Steffler. "They're probably going to take away some lasting friendships and connections because these people have made a significant impact on their lives and they know that they weren't people who just clocked in and clocked out. These kids will recognize that the WJHA staff were really working for them, and I think that will be long-lasting."