TNYF 12 Days of Giving – Day 8
December 12, 2022 8:00 am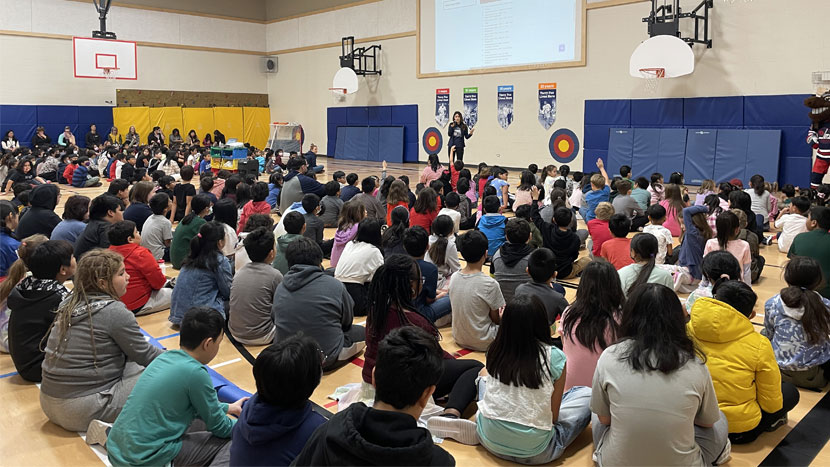 YOU can give mental wellness resources to students and teachers
Much of the focus around Project 11 is on the kids who learn valuable lessons about mental health, but with school teachers being the ones delivering the lessons, they are also learning plenty along the way, and are able to guide their students on their mental wellness journeys. Thanks to donors like you, P11 teachers gain mental wellness tools and expertise at no cost to their schools.
Catarina Allan, a Grade 2 teacher at Lord Nelson School has felt privileged to be able to offer Project 11 lessons to her students. She views it as her role as an educator to support students, bring awareness to the topic for them, and teach them healthy coping skills so that they can develop positive social, emotional, and communication skills. She's found the Intermission and Mindful Moment videos to be particularly effective with her classes.
As much as her focus is on helping her students, she's realized they aren't the only ones learning about their mental health. She too has discovered more about her own well-being through teaching the program. The lessons on coping skills aren't just for students as they handle the stress of school and childhood, but for teachers too as they handle balancing work and life. The sessions Project 11 provides for relationship building aren't just so students can learn how to get along with their classmates – they're helpful for teachers too as they work alongside co-workers.
The knowledge Catarina has gained from the program isn't just helpful for her own personal and professional life either. Her engagement with the program helps her model the lessons to her students not just when it's Project 11 time in the classroom, but throughout each day, and they make her an even greater resource to her students when they come to her for assistance with emotional challenges.
"I appreciate that I have a well thought out resource that I can use to help support my students' mental health. I have learned so much about my own mental well-being and am now able to help my students learn about how to manage their mental health in a positive way." – Catarina Allan, Grade 2 Teacher, Lord Nelson School
YOU can make a difference this holiday season by giving more youth the chance to build relationships and confidence in the WJHA by donating to the TNYF 12 Days of Giving campaign HERE! All donations directly impact the lives of Manitoba youth.