Spring Into Giving – Day 4: Giving youth a place to make great saves and great friends
May 12, 2022 7:00 am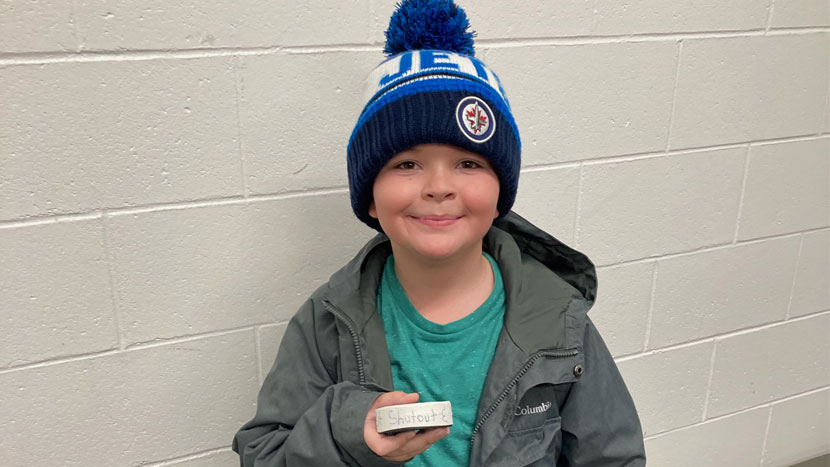 Donate to the TNYF Spring into Giving campaign TODAY by clicking HERE!
Thanks to the Winnipeg Jets Hockey Academy (WJHA), Grade 5 student Parker regularly gets to interact with both mentors and peers in a fun environment.
Parker was new to hockey when he joined the WJHA, and it initially served as a great starting point for him to learn to play the game.
"We thought it was a great program, seeing as Parker was new to the sport," said Corey, Parker's father. "This was a great way to develop skills and see if it was something he enjoyed doing long term."
Parker has invested himself in the program, going beyond just learning to skate and play the game, but also challenging himself to learn how to play as a goalie.
It was in this role that his passion for hockey reached a new level. His time between the pipes has included many highlights – among them, his first shutout and first win with his U11 team.
"A favourite memory of mine would have to be when I got player of the game and a puck for my shutout!"
All of that time at the rink honing his craft has led to much more than just developing his skills – he's developed a lot of great relationships along the way too.
"Making new friends and all the pats on the helmet when I make saves have been a highlight," Parker noted.
That's been particularly important for his parents to see.
"Being an only child, we would say that group activities and the extra socialization has been great for him," said Corey.
More than that, the WJHA has given Parker new goals to strive for and new role models to learn from. His transition to playing in net gave him lots of one-on-one time with some of the coaches, which has left a great impact on him.
"We would want others to know the dedication and positive roles the coaches and staff play in the program," added Corey. "Seeing how they interact with the kids shows the commitment to making it fun as well as teaching hockey skills."
Give Manitoba youth like Parker the chance to build meaningful relationships by donating to the TNYF Spring into Giving campaign HERE! All donations make a difference for Manitoba youth, as just $150 provides a pair of skates for a WJHA student.