Camp promotes growth for campers and volunteers alike
August 24, 2020 3:00 pm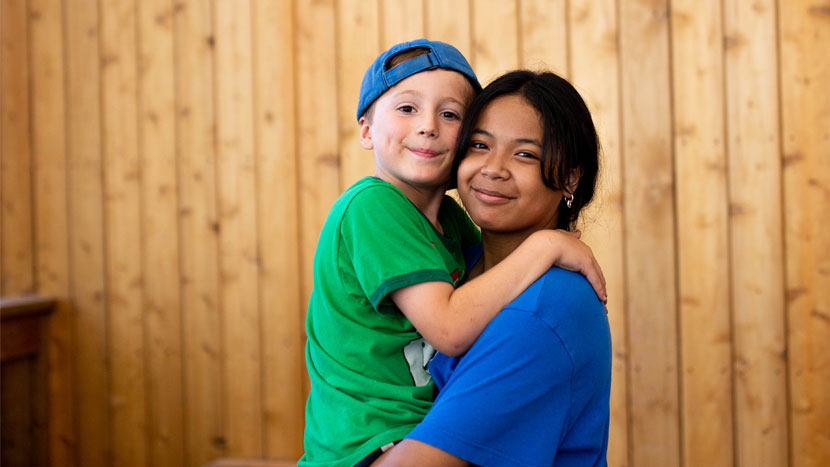 As a Winnipeg Jets Hockey Academy (WJHA) student athlete, Krista has enjoyed a week at Camp Manitou each summer. She has many vivid memories of fun and laughter with her friends while enjoying the many activities and adventures of camp. She also remembers how her group leader contributed to her experience each year.
"When I was a camper, I tried my best, but I didn't always like doing each activity," she explained. "The counsellors helped me get through each one and now I just want to be that person for others."
Now 14, Krista is seeing things on the other side as a volunteer assistant group leader. Throughout the summer, she has spent three separate weeks at camp working with groups of 7 and 8-year-olds. She has found the experience to be as fun and as rewarding as being a camper herself.
"I get to see them grow during the week and how I impacted that."
Margaret, also 14, is another WJHA student athlete who has had a similar experience of transitioning from camper to volunteer.
As a camper, Margaret's highlights included activities like ziplining, bannock making, archery, rock climbing, and interacting with the staff who ran the activity stations. Now that she has the perspective of a volunteer, she's found some new highlights of the weeks at camp.
"What I enjoyed was seeing the smiles, laughs and new memories the campers had. A week goes by without even realizing it."
Camp Manitou may be a place for kids to learn, explore and grow, but it also presents an opportunity for older teens to manage new responsibilities, gain valuable work experience and new life and potential career skills. Volunteers are an important part of Camp Manitou's summer programming each year as they provide assistance to the group leaders to ensure things run smoothly throughout the day as they transition from activity to activity.
Having had the influence of her own group leaders in the past, Krista knows her role is just as much about personal growth as it is about logistics.
"I want them to try their best even if they don't feel comfortable because I want them to grow as a person," she said. "I help them grow the confidence they need to get through the activities, like getting to the top of the rock wall."
As much as Krista and Margaret are there to support campers in trying the rock wall and other new things, the experience is also pushing them to grow.
"I learned to be a leader to the kids and encourage them when things aren't going well, and I used this to lead the campers to work with each other," noted Margaret. "Working at camp has also helped me grow in public speaking and self-confidence. I was never good at public speaking and would get nervous. For self-confidence, I would doubt, be anxious, and discourage myself. However, volunteering at camp gave me that chance to boost those up."
"Being an assistant group leader has helped me with my confidence because it's made me get out of my comfort zone quite a lot and that even helped me to grow as a person," added Krista.
Jennifer McAlpine, True North Youth Foundation (TNYF) Youth Career Counsellor with the WJHA who ran this year's camp volunteer program said the opportunity to work with youth in the camp setting provides some key takeaways for young students.
"Communication and interpersonal skills are such a huge skill that youth just don't have as much because their main form of communication has been mostly through technology," said McAlpine. "So being able to build those relationships and that rapport with other group leaders and the kids is a valuable skill set."
Margaret and Krista, McAlpine notes, have caught on quickly to what it means to be a volunteer leader at camp, and have been developing their interpersonal skills too.
"With both of them having been campers previously and now working as volunteers, they can execute the things that need to be done and make the camp experience as good as theirs, or even better, by using those skills and engagement strategies their counsellors used with them."
Whether it is the fun that the volunteers have working alongside the kids, or the valuable lessons that they pick up along the way, something is working and is drawing teens into the program. The number of volunteers that have been at camp has grown and they want to keep coming back week to week. That's resulted in camp maxing out the number of volunteers they could accommodate this summer due to the pandemic-imposed need for reduced capacity.
Margaret and Krista are certainly no exception.
"I get to understand where counsellors are coming from way better being on this side and how different it is," said Krista. "I'm definitely looking forward to coming back next summer."
"If I ever get the opportunity to volunteer again, you bet I will," said Margaret. "I wouldn't miss it for the world."