Ring in a "sweetened" New Year while watching the World Juniors
December 23, 2020 10:23 am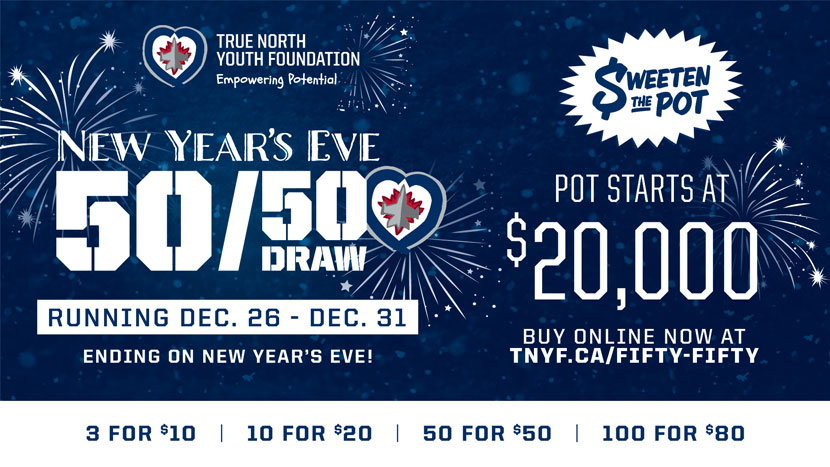 Adding to the always-exciting post-holiday World Juniors will be the chance to win a sweetened True North Youth Foundation (TNYF) 50/50 pot.
The pot opens at $20,000 and kicks off Dec. 26 at 9:30 a.m. CST when Jets prospect Cole Perfetti hits the ice with Team Canada vs. Germany.
Cheer on Perfetti during all Team Canada preliminary round games:
Dec. 26 at 9:30 a.m. CST Canada vs. Germany
Dec. 27 at 9:30 a.m. CST Canada vs. Slovakia
Dec. 29 at 9:30 a.m. CST Canada vs. Switzerland
Dec. 31 at 9:30 a.m. CST Canada vs. Finland
Tickets are sold 3 for $10, 10 for $20, or 50 for $50 and 100 for $80 and can be purchased until Dec. 31 at 9:30 p.m. prior to a 10 p.m. draw. The winner receives half of the pot.
Be a game changer for Manitoba youth by supporting the TNYF's online 50/50 draw and raising much-needed funds to ensure consistency in the foundation's youth-centred programming throughout and beyond the pandemic.
More than 60,000 Manitoba youth continue to rely on the TNYF and its enriching educational, sports-based, and character-building programming – Winnipeg Jets Hockey Academy, Project 11 and Camp Manitou – to support and encourage them in achieving their full potential.
Though the pandemic significantly impacted funding this year, the foundation pivoted to provide virtual programming and support and was able to continue its positive impact on youth by introducing P11 to more than 1,000 new teachers, during a time when mental health resources have been greatly needed, implementing new health and safety protocols at Camp Manitou, and expanding the WJHA's tutoring program as part of its virtual outreach.
To learn more about the True North Youth Foundation and its programs, please watch this video, https://www.nhl.com/jets/video/true-north-youth-foundation/t-277443454/c-46373503.