Growing camp, growing impacts
August 15, 2022 10:30 am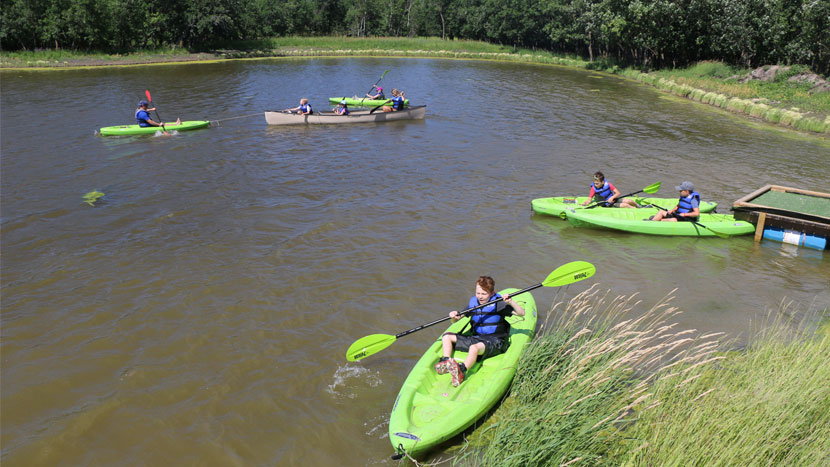 Starting in 2019, the True North Youth Foundation's (TNYF) Camp Manitou embarked on a significant $8.5 million expansion. Now nearing completion, 2022 summer campers are being introduced to the new amenities and activities which include a 2.6-acre custom-made lake complete with a dock and boathouse on a new parcel of land that will provide campers with several new camp activities.
The numbers only tell a small portion of the story. What can't be tracked in dollars or acres are the new experiences youth will be able to take in and the relationships that will be built between campers, and between campers and staff, along the way.
As a camp located only five minutes from Winnipeg's west Perimeter Highway, Camp Manitou has made it a priority to have underserved youth from the city attend summer camp, which they've done through welcoming students from their TNYF sister program, the Winnipeg Jets Hockey Academy (WJHA), as well as through campership funds that reduce the cost of attendance.
For many of those kids, the new activities of kayaking, canoeing and mountain biking are ones they haven't had the chance to try before.
"The lake is perfect for giving kids that experience of learning," said Camp Manitou Director Audrey Hicks. "We recently had kids out there, and some of them had never been in a canoe before. To see them trying something new for the first time is amazing."
The lake, which has been in use since June, will also be a place where those who have traditionally been unable to participate in water sports due to mobility challenges will now be able to do so, thanks to an accessible dock. The floating dock system, being fully donated by Nor Col EZ Dock, will be the first of its kind in Manitoba and feature an ADA (Americans with Disabilities Act) compliant kayak and canoe launch that will allow people of all abilities to enter boats safely.
"Providing the accessible dock at Camp Manitou gave us a great way to support our community," said Garth Krulicki, President of Nor Col EZ Dock. "This dock will allow youth who wouldn't normally be able to participate in water activities the chance to do so, and it will allow everyone to enjoy the lake that much more with a stable and durable surface to enter from."
With the lake adding a whole new dimension to camp that hasn't been there before, Hicks already anticipates it opening further opportunities beyond its shores. She sees the lake as a perfect training ground for youth to get a handle on paddling, learning different strokes, and getting experience at steering kayaks and canoes. As campers progress to the Prospects Leadership Program that trains youth to become volunteers and staff at the camp, she envisions using the skills they've learned in the boats to take them on overnight wilderness canoe trips elsewhere – yet another new experience for many youth that offers even more relationship building.
On top of paddling, campers will get to learn new pedalling skills too. New mountain bike trails border the lake, and a biking skills course will bring a new cycling challenge. Both are specifically designed to test campers' two-wheeled abilities with hills, tight corners, and obstacles.
Camp is ensuring youth get expert instruction to develop those bike skills through Ness Dalling, their newly hired Bike Program Coordinator. Dalling grew up involved in the provincial cycling program by participating in mountain biking, and then more seriously as a high-level road racer, and has been training through the Cycling Canada Hop On program to be ready to pass on his knowledge to campers.
"I hope I can enhance the biking experience, and in turn, the entire camp experience," said Dalling. "This year should be a great base level to grow off of for future years that will allow us to really integrate the bikes into the camp as a whole and make them a staple of the experience."
The camp has already been developing ideas for an immersive bike week for kids particularly interested in growing their cycling skills. Though a typical week of camp sees kids move from activity to activity each hour all week long, a bike-focused week might see them on the trails all morning, while getting to enjoy the other activities during the rest of the day.
Whatever level of interest campers have in biking, Dalling hopes the activity at least provides them with tools they can use beyond the camp's grounds.
"These skills will be the building blocks for future riding that will hopefully give them the skills they need to follow whatever path they're interested in cycling, whether it's commuting, racing, or recreational riding."
Also part of the expansion project was the construction of a new lodge, the Travis Price Centre, which opened in summer 2020. The building has already served as a beautiful meeting space to build relationships, whether for campers and staff during lunch, or for rental groups during meetings, conferences, and events.
Both the lake and surrounding bike trails will prove valuable beyond just summer camp programming too. The lake will transition from hearing the slaps of paddles on the waves in summer to the slaps of hockey sticks on ice in the winter and is set to be the home of the inaugural Ducky Pond Hockey Classic this coming winter. Through partnering with Cycling Canada for their summer bike curriculum, Hicks anticipates that will bring riders to the track outside of the summer season.
More than anything else, Hicks hopes that the boats leave more than just a wake, and that the bikes leave more than just tire marks.
"When you talk to people who have been to camp, 95 percent of the time what they remember from their experiences are the relationships. What people are left with are the friends that were made, their cabin leaders, and the impact they had on them. Those are the things that kids remember, and we're excited about how these new Camp Manitou spaces will spark those meaningful interactions."
This article was first published in Game On – Manitoba's hockey community magazine.