12 Days of Giving – Day 8: Turning classrooms into teams through Project 11
December 21, 2020 10:00 am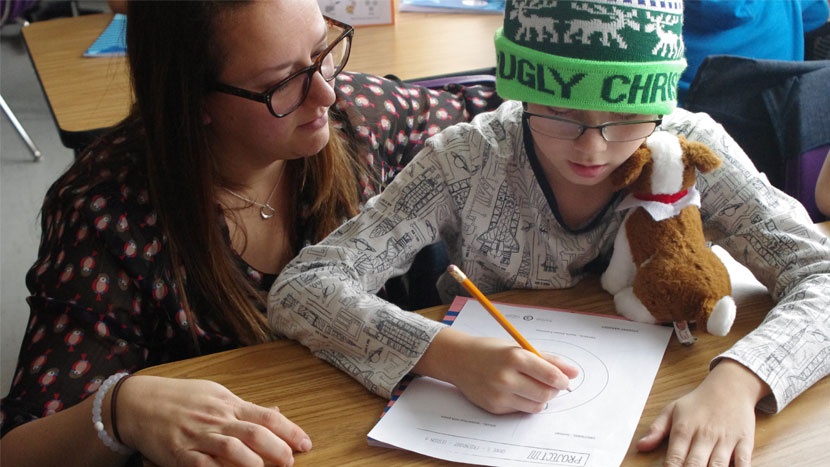 Words don't just describe our reality – they create our reality.
That's why Grade 4/5 teacher Heather Blacker, who teaches at Brooklands School in Winnipeg, doesn't refer to her classroom as "Classroom 16" – their room number in the hallway. Rather, she refers to them as "Team 16".
"The room is our space, but we work together just like a team," said Blacker. "We are Team 16 – everyone contributes in their own way, we support each other, and we lean on each other. Without Project 11 we might not have understood the value of being a team."
By renaming her classroom, Blacker is not only creating a reality where her classroom is a more cohesive team, but a reality where focusing on mental health is a team effort – not a personal one.
So often, mental health can be misconceived as a personal matter where one needs to focus solely inward in search of a solution when in reality, it's quite the opposite. We should all be looking around us for support in finding healthy practices for our mental health.
Blacker has worked hard to ensure that kind of environment where students can look to each other for support exists within Team 16 at Brooklands.
"Project 11 has impacted my students by providing a safe environment for students to share their thoughts, ideas and opinions," she noted. "Students feel confident in sharing and communicating because of the ground rules in place. I feel closer to them, I understand their needs better and we have developed a greater trust that allows them to take risks that they may not have been comfortable taking before."
Project 11 hasn't just helped to boost the confidence of the students in their communication with each other; it's helped Blacker as well. She's more comfortable tackling tougher topics now that her class is more open to conversation in general.
"We are able to have open, caring conversations and I see students wanting to share more," Blacker noted. "I think in general we share more about what's bothering us and work together to find solutions. I'm not afraid to approach topics that are sensitive in nature – instead we talk about the hard stuff and as a result, the students know that I'm a person they can lean on in difficult times."
That's a significant step for any teacher to take – moving from someone who teaches their students to someone who fully supports their students. That type of relationship with a teacher can also lead the way to healthy relationships with the other classmates.
For Blacker, that's all a result of empathy and compassion – two skills that P11 works so hard to instill in the students who participate in its programming.
"Project 11 builds empathy and compassion; students listen to others and respond thoughtfully. It really builds a sense of community and family within our classroom as students share, role play and complete activities together. We are mindful of our own experiences but also very compassionate towards the experiences of others."
With those types of traits presenting themselves in Blacker's classroom at Brooklands School, perhaps naming her classroom "Team 16" isn't just an exercise to create cohesiveness. Instead, it might just be a reflection of the community that has already been formed thanks to the lessons of Project 11.
Become a game changer for teachers like Heather and give them the means to turn their classroom into a team with Project 11 by DONATING TODAY!