Relationships key in camper-to-staff transition for WJHA student
September 6, 2022 9:00 am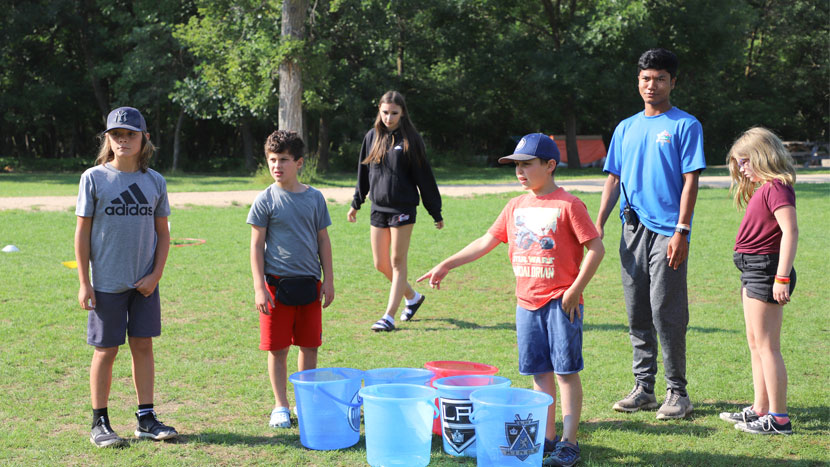 Reaching the top of the rock wall at Camp Manitou may be fun, but it's the cheers from the other campers that make it truly thrilling. Shooting a bullseye on the archery range is equally exciting but is made that much better by the high-fives from camp staff.
Clearly, what makes camp so special is the personal interactions that are fostered in the space – not just the 39 acres of Camp Manitou and the many activities offered.
That's been Camp Manitou employee Savan's experience. As a Winnipeg Jets Hockey Academy (WJHA) student, he's been involved there for seven years already, both as a camper and now as an employee. When asked what he enjoys the most about Camp Manitou now that he's an employee, he doesn't mention all the time he gets to spend outdoors, or the unique activities and experiences – it's the human connection that keeps him coming back.
That's been the case since he was the one attending as a kid too.
"Something that drew me there was the people who worked here when I went as a camper," said Savan. "The staff made sure everyone was always having fun and participating."
That made a big difference for Savan. The relationships he built with the Camp Manitou staff and their encouragement for him to work at camp gave him the confidence he needed to step into the employee role, where he's now the one initiating those relationships with campers and impacting both their camp experience and their memories that will live with them long afterwards.
"I've gained so many bonds with campers by getting campers to participate in things they never thought they would," said Savan. "One camper went in the pool for the first time, and he said he really enjoyed it. I've been able to make bonds with some of the kids who tend to cause trouble at camp too, as well as connect to many campers by coming up with nicknames and handshakes."
It's those in-between moments at camp – the moments when moving from one activity to the next, or when standing in line for lunch – where those relationships can really be cemented, and having someone like Savan who excels in those moments is so valuable for camp.
"Camp is a place with such a variety of activities, so we have summer staff with so many different abilities," noted Camp Director Audrey Hicks. "Some are talented athletes, and some are gifted creatively, but regardless of their personal interests, the most important skill as a camp staff member is in making connections with campers. That relationship with great role models and mentors is what sticks with campers years into the future and will impact them in reaching their full potential."
Savan is the perfect example of the long-term impacts of those bonds formed as a young camper. Not only is he getting his feet wet in the working world, but he has further aspirations of studying computer science after high school. Though that's quite different from working outdoors at summer camp, the skills developed through his experiences at camp – leadership, cooperation with others, and building relationships, of course – will no doubt serve him well regardless of where he lands.