Camp experiences and adventure are woven into new Camp Manitou Director's DNA
June 11, 2021 10:00 am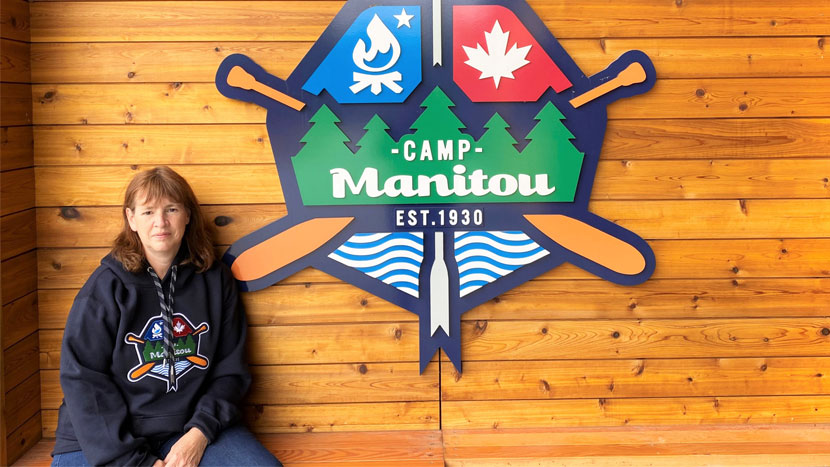 Camp Manitou's new Director, Audrey Hicks, is no stranger to adventure.
As a kid growing up in Medicine Hat, Alta., she and her brother would regularly take off on their bikes in the morning, explore new areas and find hills to climb, only returning home in the evening.
Hicks had plenty of organized recreation experiences too. Throughout her childhood, she regularly attended summer camp and was always looking for a new adventure at each of the four different camps she spent time at.
That trend continued as she began working at camps. Working with the YMCA in her hometown, she was involved in taking groups of kids camping in Cypress Hills Provincial Park. Following that, she took her camp experience overseas to Greece as a lifeguard and counsellor. She returned to North America to work at a camp in North Dakota, and eventually ended up in Manitoba at Camp Arnes for eight years prior to joining Camp Manitou this spring.
Though Hicks spent time doing other things such as owning a store in between those experiences, she's always been drawn back to the camp atmosphere.
"I think I keep coming back to camp settings because of the things that interest me in my personal life, which includes canoeing, kayaking, backpacking, and hiking," said Hicks. "All of that activity has been my biggest draw. I owned a store for 14 years before I worked at Camp Arnes and my kids were going to camp at that time, and then they worked as camp staff. I still remember thinking, 'I'm working at my store, which I love, but I want to be at camp with my kids.'"
Clearly, Hicks never wanted her camp experience to end, and as Camp Manitou's new Director, now it never does for her. She knows there are many more summer campers who never want to see their week-long camps end either, and the ongoing connections that Camp Manitou has with its campers is what drew her here and to the True North Youth Foundation (TNYF).
"One of the things that I've struggled with most is that you bring kids to camp for a week and that's an amazing experience for them, but at the end of the week you send them home. For a lot of kids, because of the homes they come from, that's really tough. What's drawn me here is that the TNYF is working with many kids who attend Camp Manitou through the Winnipeg Jets Hockey Academy (WJHA) from Grade 2 to graduation and beyond. We even have some WJHA grads working in maintenance here at the camp. It's that connection that goes on; it's not just about one week in the summer."
Hicks is excited to start building those relationships with campers that can be fostered over years of them attending Camp Manitou. If COVID restrictions allow, that will start this summer when the schedule will include new activity options that introduce another side of the camp experience.
"Because Camp Manitou has mainly operated on a day-camp model, the schedule has had campers showing up in the morning, they do activities, they have lunch, they do more activities, and then they go home. We're trying to bring in a few more of the experiences kids would get if it was an overnight camp. That includes singing and learning camp songs, skits, and those kinds of things which will give a bit more of a well-rounded experience and complement the more physical activities."
Whether through new activities or old favourites, Hicks is just excited to share her camp passion with campers and watch them learn new skills and build relationships.
"Watching somebody who comes from never having done a certain activity to succeeding in whatever that activity is – catching a fish, wall climbing, swimming, or anything else – and watching their excitement when they actually accomplish that is so rewarding."