12 Days of Giving – Day 9: Positive impacts off the ice through hockey programming
December 22, 2020 10:00 am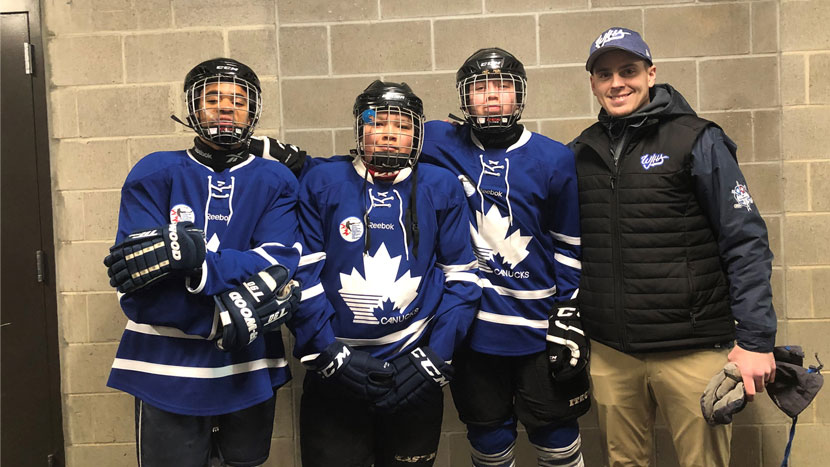 While the WJHA is able to offer many unique opportunities to its student athletes – from hockey camps with NHL players, to skating at the 2016 Heritage Classic in Winnipeg – if you're looking for where the program's biggest impact can be found, you need not look further than the regular on-ice hockey sessions, tutoring, and after-school programming.
Though WJHA student Dominick has been fortunate enough to participate in some unique experiences like skating at the 2016 Heritage Classic and being the Scotiabank Skater at a Winnipeg Jets game that had him accompany the team onto the ice prior to the game, the real difference-maker for him has been the weekly interactions with WJHA coaches and mentors.
"I've learned so much on and off the ice that I probably couldn't have learned anywhere else," said Dominick. "It's for sure made my life better and easier. Hockey has made me think more positively on things and has also helped me become more of a team player."
The WJHA has proven the perfect program to engage Dominick as he's been a huge hockey fan his whole life. His grandmother Kelly, who has raised him since he was young, said when Dominick was younger, he would regularly practice his shooting in the basement. That's made being part of one of the WJHA's minor hockey teams a real highlight.
"I'm proud to be a part of the WJHA and being selected to be a part of their first minor boys' team," noted Dominick. "I'm also proud of the accomplishments that I've achieved, and they wouldn't have been made possible without the help of the WJHA."
"The WJHA has created a positive impact on me," added Dominick. "The coaches are great to have and are always positive, and I think that their positive attitudes transformed me not just on the ice but off as well."
Those moments of growth and displays of character off the ice are the moments Kelly is most proud of when she looks at Dominick's time on the minor hockey team. She recalled a few specific incidents that stand out to her.
"One year, Dominick's dad bought him an expensive pair of skates," said Kelly. "Eventually he grew out of them, and rather than trying to sell them, he donated his skates to the WJHA so that they could give them to another student who needed them."
"Dominick also saves all his money to buy his own hockey sticks," Kelly continued. "Again, rather than selling off sticks when he's done with them, he's chosen to give them to some of his teammates on his minor hockey team."
For Kelly, those moments speak strongly of Dominick's character, but also of the positive influence that good role models like WJHA coaches can have on youth.
"They've impacted everything about him including his manners and how he respects people," said Kelly. "The coaches are wonderful and make a point to check in on him whether there is hockey going or not."
That kind of care has shown through particularly in the pandemic when hockey has been on hold. That hasn't stopped the WJHA from connecting with students, ensuring that they're engaged in school, and doing their best to continue to impact their lives from a distance.
Become a game changer for youth like Dominick and give them the chance to be impacted by role models like WJHA coaches by DONATING TODAY!