WJHA provides first steps on career path and more for scholarship winners
July 6, 2020 2:00 pm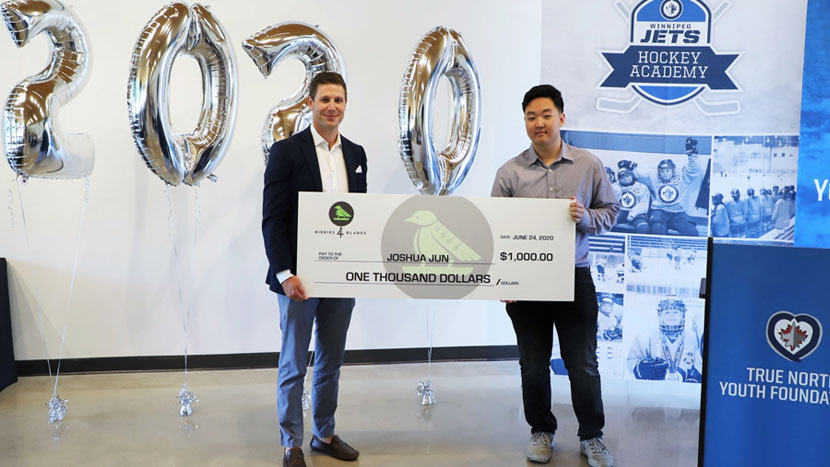 The True North Youth Foundation's (TNYF) slogan is Empowering Potential. It's only two words, but it speaks volumes about the values of the organization and implies several things. Firstly, the work they are doing with the youth they serve is not just for the present; it will help to develop them for the future. Secondly, it shows that the TNYF believes that every youth in the program has potential.
Though the Winnipeg Jets Hockey Academy (WJHA), a program of the TNYF, aims to increase school attendance and high school graduation rates in socially and economically challenged schools in Winnipeg, its work isn't just for the short term. The goal of increasing school attendance isn't just to get students across the stage so they can toss a cap in the air; the goal is to set them up for a successful future beyond graduation day. The WJHA has done exactly that for this year's 40 program graduates, whose accomplishments were celebrated on June 25 at Camp Manitou.
"We're so proud of this year's WJHA grads," said WJHA Director Murray Cobb. "Not only have they put a tonne of work into their schoolwork, they've shown a lot of commitment in sticking with our program and staying involved. High school isn't necessarily an easy time of life, and it's been inspiring to see glimpses of the potential these youth have as they've persevered through the ups and downs that have come their way."
Two prime examples of that burgeoning potential are Joshua and Gabriel. Joshua, of Sturgeon Heights Collegiate, was awarded the Birdies 4 Blades Scholarship at the end-of-year celebration, while Gabriel, of River East Collegiate, was given the WJHA Jets Alumni & Friends Scholarship. Both young men couldn't have been prouder to receive the honours.
"It shows I did something, and I put in a lot of effort," said Joshua. "I tried to attend as often as I could and do as much as I could to connect with the Jets Academy and the staff. It helped me become a part of the program."
"It really makes me feel like what I did here is something important," noted Gabriel. "It's a recognition for all the work of not just myself, but all my classmates."
That recognition of hard work is well-deserved for both young men. They've both taken their experiences in the WJHA and are using them to their advantage to launch themselves into the next stage of life.
From a young age, Joshua has had an interest in programming and computer science and will be pursuing that passion this fall at the University of Manitoba.
"In middle school we started with some basic programming," said Joshua. "Ever since then, I've been interested in how things work and the deeper side of what makes robots work, and different types of programs. That sparked my interest, and I've been pursuing it ever since."
He's already gotten work experience in the field at Price Industries with help from the WJHA. Getting that experience while in high school has given him a head start on finding out what a career in computer science might look like for him.
"I started talking about my post-secondary goals, and (TNYF Youth Career Counsellor) Jen recommended that I go to them (Price Industries)," added Joshua. "It was a great experience, and they helped me learn more about what I wanted to do and what fields I could be going into."
For Cobb, this shows the full value of the WJHA's Living Philanthropy program, which sees local businesses adopt WJHA classes and help to run weekly on-ice programming for that class throughout the season. Price Industries is one of those businesses, and clearly the relationships the company has built with the WJHA go beyond the on-ice sessions.
"It was amazing to see how the WJHA and Living Philanthropy program came full circle for Josh as he was able to secure an internship at Price Industries during his Grade 12 year," said Cobb. "That was a true sign of Josh's growth, as he went from being a shy hockey player in middle school to a confident student in high school. This confidence allowed him to seek out opportunities available to him through the WJHA, which in turn put him on a great career path where he'll undoubtedly have success."
Gabriel was drawn to a much different career path than Joshua, but his exposure to the industry also came through the WJHA. For him, it was a field trip to the Winnipeg Law Courts with the after-school program that caught his interest.
"The way all of the people in the building held themselves was inspiring. Everyone had an air of respect around them – not just for the building but also for themselves and every single citizen, every single judge, every single plaintiff, every single person. They just had so much respect and understanding of different positions and different people."
As a result, Gabriel will be studying business and law through the University of Manitoba in the fall.
The WJHA and the people that inspired Gabriel in the law courts seem to have impacted him in more ways than just choosing a career path. Gabriel already shows a great respect for everyone and sees the potential in his peers the way the WJHA does.
"I feel so many of my friends and colleagues have so much potential in them, and they just have this fire in them that can burst out at any point in time. They can do so many great things, they just don't know how to channel that into something great. I'm glad that I had all these opportunities, and I'm glad that the Winnipeg Jets gave them to me."
That's just who Gabriel is, according to Cobb. His infectious optimism has been rubbing off on his peers for years, which made him a real leader in the WJHA group.
"No matter what the situation, Gabe always found a way to make it more enjoyable for his peers, which helped the entire group stick with the WJHA and find their own success," said Cobb. "He could always be counted on to liven up an on-ice or after-school session, while at the same time putting in a great deal of effort, which ultimately led him to be a scholarship winner and university student."
Both Joshua and Gabriel have been left with a lot more than just career paths as they leave the WJHA. The lessons they've learned about connecting with others through the WJHA will serve them well no matter where the road takes them.
"I think some of the most valuable lessons weren't directly taught, but it was just connecting with new people," added Joshua. "The more people you connect with, the more you feel at home and have more people to rely on, which will greatly help in future circumstances and give you many opportunities."
Now Joshua, Gabriel, and their fellow WJHA graduates get to test those lessons and fulfill their ultimate potential.