Maple Leaf Construction Scholarship allows WJHA grad to build for the future
June 20, 2022 9:13 am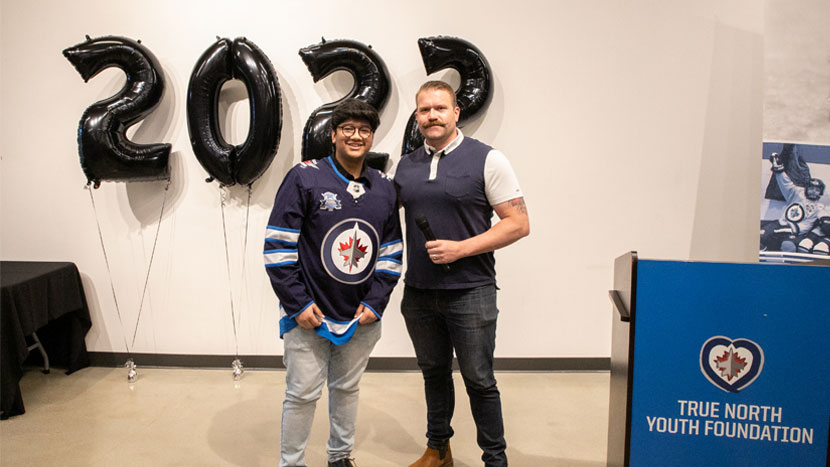 The Winnipeg Jets Hockey Academy (WJHA) is much like a construction site. Rather than the heavy-duty machinery, power tools and contactors needed to construct buildings and infrastructure, the WJHA uses hockey sticks, school supplies and mentors to build up their students and ready them for life beyond high school.
It's only fitting then that Maple Leaf Construction would invest in the WJHA. The civil construction company based in Winnipeg mainly focuses on commercial and residential developments and street reconstruction, but ensures that they too are helping to build up youth through their Maple Leaf Construction Scholarship that is awarded annually to a graduating student of the WJHA to assist them with post-secondary schooling costs.
This year, that student was Rudra, who has experienced plenty of development while in the WJHA.
"The WJHA introduced me to hockey after moving from India to Canada," he said. "I was able to play hockey at no cost, which included getting equipment and free classes. Another benefit was getting tutoring when I needed help. I also got to earn volunteer hours and received my first job at Camp Manitou in summer 2021."
There's a clear development progression there – moving from hockey skills to life and job skills, and Rudra already sees how each element of the WJHA has helped him grow.
"Minor hockey has helped me a lot to grow as a person and as a player. The tutoring was really good as it helped me boost my grades into the 90s, and the after-school program also had so many impacts on me because it helped me learn about health and nutrition, how to write a resume, and planning for the future."
Right now, Rudra's plan for the future involves the University of Manitoba's Price Faculty of Engineering where he'll start his undergraduate studies in computer engineering. The Maple Leaf scholarship, will play no small part in helping him achieve that. The scholarship is worth $5,000 – roughly the price of tuition – which Maple Leaf has committed to giving to Rudra for four years to carry him to graduation.
"As an organization, we have a strong belief that giving back is an important contribution to community," said Garrett Fitzpatrick, Vice President of Field Operations for Maple Leaf. "We believe in creating career opportunities for people. That may not always be through a formal education, but if someone wants the opportunity to pursue a secondary education, we want to try and help break down barriers that may be preventing them from achieving their goal."
The financial aid will certainly help Rudra achieve his goals, but so will the lessons he's learned while participating in the WJHA. It's not hard to see why Maple Leaf believes in Rudra when you hear him recall one particularly rough stretch for his minor hockey team that taught him a valuable lesson about perseverance.
"I learned to never give up," Rudra noted. "We went on a more than 10-game losing streak, which is at a point where most teams would start feeling unconfident. But everyone on the team never gave up and worked hard every game."
That kind of determination is something the WJHA is proud to see, and for Maple Leaf, it shows that their scholarship is doing more than just helping Rudra pay for his schooling – it's continuing the work that the WJHA has started in developing even more youth who will contribute to building a better society.
"We truly believe the WJHA is a great program," said Fitzpatrick. "It provides kids an environment to help impact their lives in a positive manner and create opportunities to be successful."