12 Days of Giving – Day 4: Giving confidence to Camp Manitou volunteers
December 17, 2020 9:15 am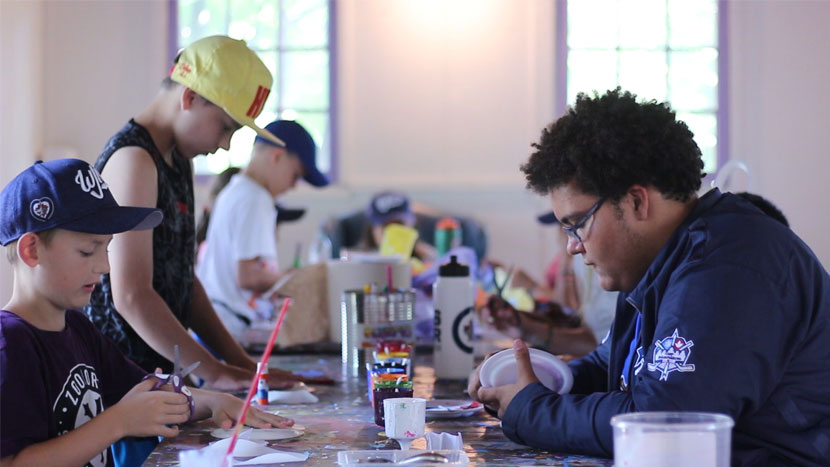 There's a reason the True North Youth Foundation sticks with students throughout their developmental years as youth. The types of transformational change the foundation strives to make in students' through encouragement, confidence building, and skill development takes place through years of relationship building.
It also makes the overlap of the TNYF's programs – the Winnipeg Jets Hockey Academy (WJHA), Camp Manitou, and Project 11 – integral as the programs work together to impact youth in different areas and through different opportunities.
That's been the case for Cody, a former WJHA participant and camper at Camp Manitou who now works with both programs. Cody entered the WJHA as a soft-spoken kid and was still rather quiet as he transitioned to being a camp volunteer.
"Cody was really shy and quiet when he first started volunteering at camp," said Rick Bochinski, Director of Camp Manitou. "We were actually a little worried and thinking, 'I don't know if this is going to be a fit for Cody'."
Cody's naturally quiet demeanour may not have made it immediately obvious how much he loves working with kids, but it's obvious when talking to him that getting to work with so many kids and getting to meet new kids each summer is a highlight. It's even more obvious through the contagious smile he has when working with the campers.
"The reason I wanted to work with kids at Camp Manitou is because there are so many different kids that have come from so many different backgrounds, and I think it's a great opportunity to work here and meet all those types of kids."
That passion for working with kids drew him in, and now his experience working at camp has really gotten him to open up and to interact more confidently with campers over the past couple of summers.
Bochinski has been able to see Cody grow through the years as a camper and as a camp volunteer and knows Cody has put in tonnes of effort to grow his confidence to become a more outgoing person.
"We had to really work hard to get him to come out of his shell and get him to talk a bit. But now, the campers know Cody really well, and returning campers want to go to say 'hi' to Cody right away."
Cody recognizes just how far he's come as well and is grateful for the experiences he's had along with the opportunities the foundation has given him to grow.
"Since I've started working here, I've developed great social skills with the children. I'm not as scared to approach children when it comes to problems that they may have. The way I explain the activities has grown a lot from my first year as well."
For Bochinski, it's clear that the relational skills that Cody's learned are direct products of his time in the WJHA and at camp, and it's reassuring to see that students in the TNYF programs are not only learning the amazing life skills from the programs but are putting them to good use in their own lives.
"I saw a video of Cody in Grade 4 or 5, when he originally started and came through Hedges Middle School, John Taylor Collegiate, and you can definitely see some of what we try to impart on the kids through the Winnipeg Jets Hockey Academy. Cody's definitely learned those, even in how he interacts with kids," added Bochinski. "You can tell that what he learned in his interactions with our coaches, he's now using that when he interacts with kids, which is really positive. At the end of the day, that's what it's all about."
Give youth like Cody the chance to build their confidence at Camp Manitou by DONATING TODAY!