Puck luck
December 28, 2019 11:58 am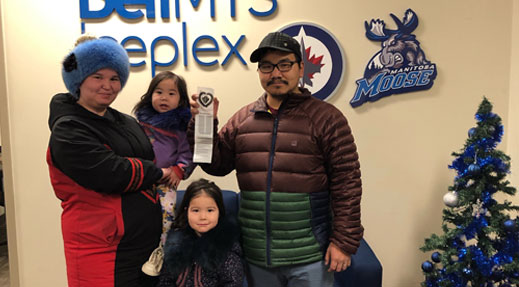 It may have been beginners luck, but Kaylynn Kusugak is crediting hockey for a big win that made Christmas 2019 extra sweet for her family of six.
The Rankin Inlet resident made the chance decision to enroll her 12-year-old son Payton Kabluitok in the Bell MTS Iceplex Challenge Cup over the holidays which led to Kusugak and husband Eugene Kabluitok attending their first-ever Jets game on Dec. 23. Now the pair is $90,630 richer after winning the 50/50 draw that featured a "sweetened pot" that started at $20,000.
"We thought we'd just come in and enjoy the trip and watch (Payton) play hockey," said Kusugak noting that hockey is a huge part of their community with all kids aspiring to be the next Jordan Tootoo. "Hockey brought us here and that's how we ended up with this luck."
In fact, winning the Jets 50/50 draw was not the first lucky break Kusugak had had that day – she almost didn't even go to the game.
"Originally my husband was going to take one of our boys but we couldn't decide who was going to go and didn't want them to be upset so, at the last minute we got a babysitter."
"For some reason, I don't know why I was so set on buying a 50/50 ticket," Kusugak recalled. "When we found out we won, people kept saying, 'you talked about 50/50 all day.'"
Kusugak bought $50 worth of tickets from the first seller that she heard calling not even realizing the draw featured a sweetened pot. The pair had a great time at the game but left a little early before the 50/50 draw was made.
It occurred to Kusugak that they should check for the winning number online and when her husband started calling for her to come look she thought he was pulling her leg. She looked at the tickets while he read the numbers online. She then gave him the ticket and she double checked the computer but was still not convinced.
"I thought maybe the date is wrong or maybe something was wrong – I just couldn't imagine winning that amount of money."
They made a phone call to have it officially confirmed and then it finally started to hit them.
"I couldn't even talk about it for the first night, I was so overwhelmed. I thought it was too good to be true and we couldn't claim it until Friday (Dec. 27) so we were thinking something is going to happen from Monday to Friday – we were really worried about the ticket blowing away or something getting spilled on it," she said laughing.
They found a clear plastic bag from a pair of nail clippers that her husband had just purchased and safely tucked and fastened the winning ticket into it to keep it safe from rips and spills.
"Now that it's done and we submitted the ticket and the paperwork I can finally laugh about it," Kusugak said of their overt paranoia.
As for what they may spend some of the money on, a snowmobile is at the top of the family's list.
"We live off the animals and fish that are caught on the land and it really helps us to afford to live in the north," explained Kusugak noting that having a snowmobile will allow them to keep hunting throughout the winter months.
"It gives us a little extra, more than a little extra, that we won't have to worry so much when things come up."
The disbelief and paranoia may have subsided but the overwhelmingness remains.
Son Payton played his first games in the Challenge Cup Dec. 27 and he may have to forgive his parents if they seem a little distracted as they look on from the stands of the Bell MTS Iceplex – they may be dreaming about the many possibilities for a family vacation.
"We definitely want to do a trip. This gives us the chance we've always wanted to travel somewhere," said Kusugak adding that the cost of simply getting out of their isolated community is close to $3,000 per person.
Of course, The Kusugak-Kabluitok family are not the only winners from the 50/50 draw. The other half of the pot will go toward the True North Youth Foundation and its efforts to empower underserved youth. The Winnipeg Jets and Manitoba Moose 50/50 programs are the primary funding source for the TNYF's three core programs, the Winnipeg Jets Hockey Academy, Project 11 and Camp Manitou. Last year, the TNYF positively impacted more than 42,000 members of the community.
As well as being purchased in-game, 50/50 tickets are also available for purchase online for Winnipeg Jets home and away games. Visit TNYF.ca/fifty-fifty for more information.