New Project 11 Check In Podcast hopes to normalize mental health discussions and bring them outside the classroom
November 2, 2020 2:00 pm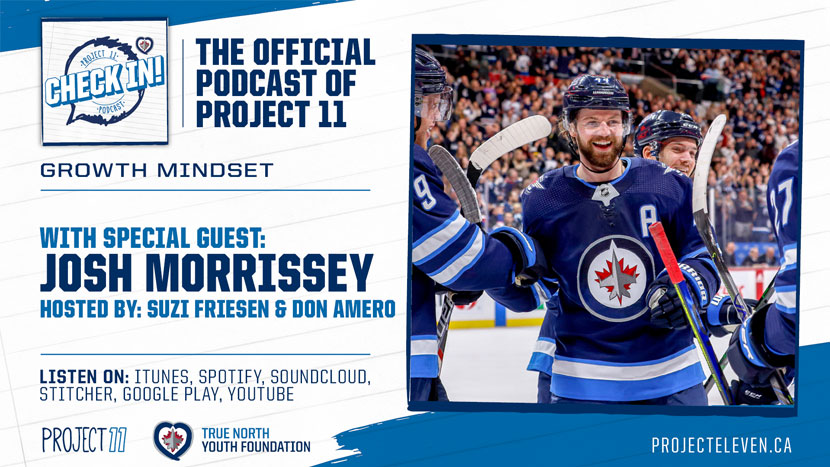 With Project 11, discussions on mental health start in the classroom – but that is by no means where they should end.
Project 11 is at its core an educational program that has become a very valuable classroom resource for encouraging conversations about mental wellness among Manitoba's youth. Over 2,480 teachers in 435 schools share the program with 62,000 students across the province, but it's when those lessons are applied outside of the classroom that their full impact is realized.
The new Project 11 Check In Podcast is one more way the P11 team is continuing to normalize and encourage conversations on mental wellness outside of the classroom.
The podcast, available on Spotify, Apple Podcasts, Google Podcasts, and YouTube is co-hosted by P11's Director of Educational Programs Suzi Friesen and local singer/songwriter and P11 ambassador Don Amero. Each episode features a special guest and will focus on a mental health topic pertinent to P11's programming and what students are learning about in the classroom.
"Our audience seems to be a mix of our P11 students, P11 teachers, parents, donors and other adults, but you don't have to be part of the P11 program to take away positive messages from the podcast – it's a great wellness resource for any teen, parent, or young adult," said Friesen. "Over the years, we've been hearing parent requests asking for additional resources. I think this is one more way to normalize the conversation around mental health, and maybe kids and parents are going to be listening to these podcasts and talking about what they've learned from one of our guests.
"We talk a lot about healthy friendships and who are the go-to people in our lives," Friesen continued, touching on topics of the in-classroom programming of P11. "How do we create win-win situations? How do we problem solve? How do we practice resiliency? A lot of those topics are going to come up naturally in the podcast."
The release of the podcast is timely, not only due to the ongoing challenges of the pandemic – which has people relying on digital platforms for programming more than ever – but because the podcast is a great complement to P11's pilot program for high school students, which launched in 40 classrooms across the province this school year.
"The podcast came out of us needing to diversify with the coronavirus," noted Amero. "I was supposed to do in-class sessions, and this is our new version of that. I almost like this way more, because it opens (our message) up to a much larger audience."
Listeners can expect to hear from a variety of diverse guests, including Winnipeg Jets players, local female and male musicians and athletes, wellness specialists, and more. Friesen knows how helpful a new perspective can be when it comes to topics of mental health, and the 80 high school students she's been working with the past few weeks have really appreciated the openness of the podcasts they've heard so far. She hopes students, parents, teachers, and everybody else listening will glean something from each episode and guest too.
After launching their intro episode on Oct. 7, Friesen and Amero dove right back into the discussion with their first guest episode being released on Oct. 21. Their guest was no stranger to Manitobans – Jets defenceman Josh Morrissey.
"Having Josh on the podcast was a great way to kick off our new platform to educate our community," said Friesen. "His openness to talking about anxiety and helping normalize the conversation around mental health is extremely beneficial for our listeners.
"We've started working with our high school students, and when they've written what bonus topics they'd like for us to highlight the following week, they've asked questions around stress management, sleep, how to deal with pressures and managing their time. For them to know that their role models, like Josh, could potentially also address some of these topics, it means a lot to them to learn from their idols about real life situations."
Amero hopes the podcast also makes listeners feel like they are a part of the conversation.
"Not everybody has the opportunity to sit down with Suzi or Josh Morrissey, or whoever else we're going to have on the podcast," Don stated. "I'm hoping for that half hour, everyone feels like they were hanging out in the room with us."
Friesen too hopes listeners feel like they have a role to play in the conversation and push the discussions of the podcast further by talking with their friends and family.
"Sometimes it's helpful to hear how other people are coping or problem solving. We can often learn a thing or two just by listening and relating to role models. Our biggest goal, though, is really just to normalize the conversation."
To listen to the Project 11 Check In Podcast, visit Apple Podcasts, Spotify, Google Podcasts and YouTube. Be sure to tune in for the next episode featuring Chief Nursing Officer for Shared Health Manitoba Lanette Siragusa – to be released on Nov. 4!