Hockey the key to connection for WJHA student
February 7, 2023 12:00 pm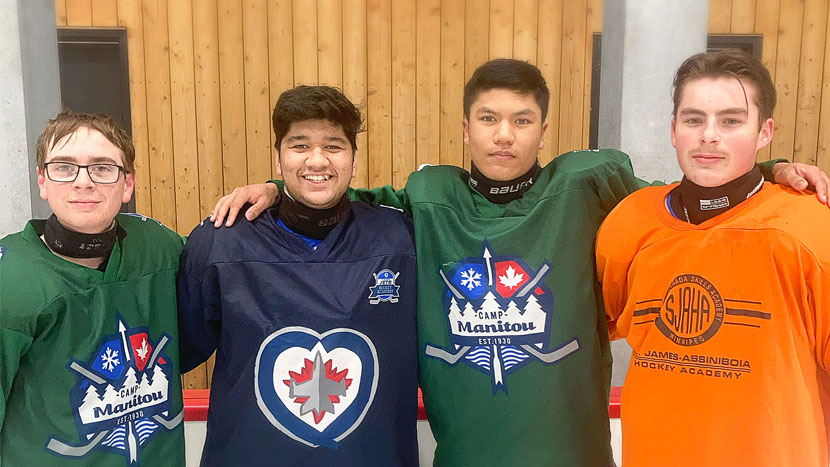 Grade 12 student Savan remembers arriving in Canada with his family in 2004-05. Coming from Cambodia, the sport of hockey would not have been something on his mind – especially with more immediate priorities like adjusting to life in a new country, making friends, navigating a new school, and getting to know his new community.
Little did he realize that hockey – which he was introduced to at age 11 – held the key to making many connections that would see him quickly settle into his new school and make friends, and that it would be a new sport that he would develop a passion for.
Savan exemplifies what the Winnipeg Jets Hockey Academy (WJHA) sets out to do. It starts by creating a welcoming environment for players of all backgrounds and abilities, removing barriers to participation, and bringing out students' potential as they learn the value of being a team, setting and working toward goals, while building their own self-confidence.
"There are so many valuable lessons to be learned from playing sports and being part of a team, and every child deserves to have this experience," said Jeff Hofer, one of Savan's WJHA coaches.
It didn't take long for Savan to feel a sense of belonging – not only because of the warm welcome he received from the program's coaches, but because of the diversity of his fellow student athletes – some with whom he shared the commonality of being a new Canadian.
"Throughout the years of playing hockey, I've seen an increase of South Asians playing hockey and who are very skilled also," he said. "That is because they were able to be exposed to hockey and have the support to play. The Winnipeg Jets Hockey Academy opens the door and gives anyone that opportunity."
The Winnipeg Jets' celebration of South Asian Heritage on Feb. 11 is reinforcing Savan's pride in his heritage and in having been presented with the opportunity to become part of the hockey community through the WJHA – a space in which he was able to express the uniqueness of his culture, as well as his own individuality.
"It's such an honour to have this opportunity – being able to celebrate your culture in front of thousands of people who love this sport just like me," said Savan who also hopes this exposure will encourage more South Asians to take up the sport he has come to love.
Savan has continued to build his skills, first achieving his goal of making the WJHA minor team and then moving on to making his high school team.
His mom, Vanna, also credits the WJHA and Savan's connection to hockey for bringing out his courage and his confidence. He has seen what is possible to achieve through hard work and practice and has a formula he can apply to any dream he has for the future both on and off the ice.
"It makes me happy and proud knowing all the hardships that we have gone through to get to this wonderful place we're at now," said Vanna. "If it wasn't for the WJHA, Savan would not have been able to play and enjoy hockey."
Savan continues to work on edgework, flexibility, stickhandling, and shooting from various positions on the ice. He shines as a natural and hard-working leader and is a great role model for any young player, whether they share his South Asian background or not.
"The Winnipeg Jets Hockey Academy really helped me helped me become more grateful for the little things in life. I've also met many amazing people who have made my experience in the WJHA even better."