TNYF 12 Days of Giving – Day 6
December 10, 2022 8:00 am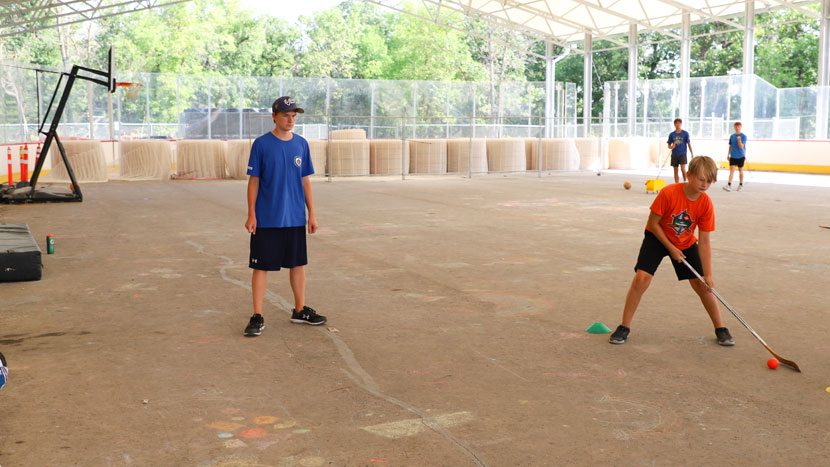 YOU can give youth the chance to grow through volunteer opportunities
Practice makes perfect. That phrase is applicable in sports and in life, and thanks to donors like you, students in the True North Youth Foundation get to practice their skills both on and off the ice.
For Grade 11 student Andrew, that began on the ice for him with the Winnipeg Jets Hockey Academy. When he started in the program in Grade 4, he had no idea how to skate and started by shuffling along the boards. With time, practice, and help from his WJHA coaches, he's become a great skater and loves to play hockey now.
Andrew has found practice to be valuable in developing his skills in other areas of life too. As a camper at Camp Manitou, he recalls not wanting to try the low ropes course because he was scared of falling off. Through the encouragement of his camp leaders he gained the courage to try and grew to love the activity. This past summer, he had the opportunity to grow other skills as he stepped up as a volunteer at the camp. Though he already knew the camp well, seeing it from a volunteer perspective was completely new and the experience had him stretching his abilities. In a similar way that his WJHA coaches have encouraged him to grow his hockey skills over the years, the more experienced camp leaders did the same. They invited him to lead the "Survival" game activity with the kids, and though he was nervous, Andrew accepted. He got to lead the activity several times, and as he repeated it, he found that he got more comfortable and got better as he went along.
It's all part of the development that the TNYF aims to see in all of their students. Not too long ago, Andrew was the camper who was benefitting from the help of the camp leaders, and now he is growing to be one of those leaders helping the next generation of kids.
"Whenever my WJHA coaches called me by my name, it would really mean a lot to me. At camp, I try to do the same thing with the kids there and I think they appreciate it too. Coaches have prepared me for interacting with kids well because they interacted with me when I was a kid, and it shows me how I should treat kids when working at camp." – Andrew, WJHA student and Camp Manitou volunteer
YOU can make a difference this holiday season by giving more youth the chance to develop their skills in the WJHA and at Camp Manitou by donating to the TNYF 12 Days of Giving campaign HERE! All donations directly impact the lives of Manitoba youth.