Register for 2021 summer camp at Camp Manitou
February 9, 2021 10:00 am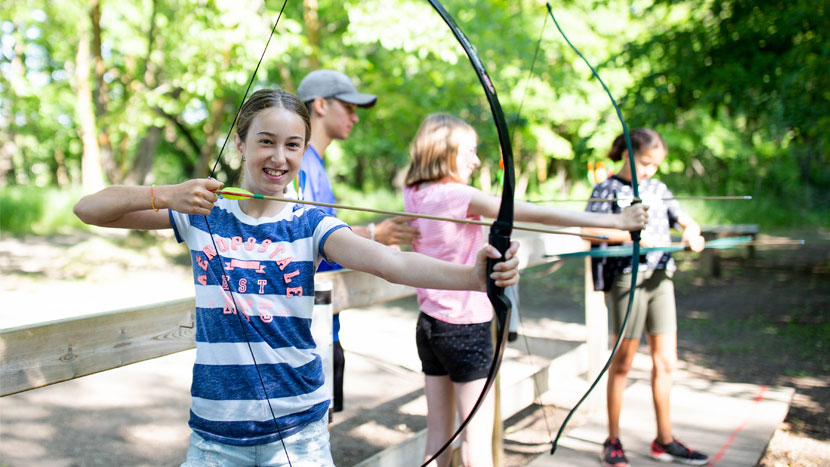 Raise your hand if you're tired of the winter weather and can't wait for the summer months!
Camp Manitou staff are certainly among those raising their hands as they look forward to another fun and safe summer at the 28-acre oasis located just five minutes west of Winnipeg. Though we may still be in the heart of winter, Camp Manitou and its staff are already turning their attention to summer as they open registration on Feb. 10 with the hope of once again giving hundreds of Manitoba youth a safe and fun camp experience.
Though ever-changing public health restrictions make it difficult to know exactly in what capacity Camp Manitou will be able to run, the staff remain excited and are committed to doing everything in their power to give youth the opportunity to enjoy the great outdoors and make new friends.
"Campers can expect another summer full of action and excitement with their friends, where they will create memories and receive mentorship from activity leaders that enjoy spending time with children and youth in the great outdoors," said Dwayne Green, Executive Director of the True North Youth Foundation (TNYF) which operates Camp Manitou.
As with every summer, and last year in particular, health and safety will be of the utmost importance to all camp staff. From drop-off to pick-up, every element of a day at camp will have safety as its top priority. Provincial restrictions in place will likely dictate smaller group sizes and groups will not be able to participate in large games with other groups of campers. Each group of campers will have its own table in the dining hall and all lunches will be served individually in brown bags. Each group will also have a dedicated washroom for use throughout their week at camp. Camper drop-off and pick-up will be "touchless" with parents driving by the rink to drop off or pick up their campers, and drive-through sign-in and sign-out will be facilitated by Camp Manitou staff.
"It was proven in the summer of 2020 that camp can be operated safely for campers and staff when health protocols are followed," noted Green. "With extra cleaning and sanitizing of equipment, smaller group sizes and other guidelines, the experience was both safe and fun for the campers. Our camp team anticipates being able to provide a very similar experience for the campers and parents in 2021."
What Camp Manitou also proved last summer was that even with all of the guidelines in place to keep campers and staff safe, camp is still a lot of fun and can offer unforgettable memories. Activities from the zipline and wall climbing, to archery and swimming will all be available, and will be a welcome change from the excessive screen time and many Zoom games youth have become accustomed to over the winter. On top of that, an enthusiastic group of staff and activity leaders will be waiting to mentor the campers and make their experience the best it can be.
"After what's been a long winter for many people, I'm sure campers and staff alike can't wait for camp and for the opportunity to safely interact with new and old friends in person," added Green. "With reduced social interactions for what will be well over a year, a change of scenery and the chance to be part of a team and try new things will be especially important this summer. I'm looking forward to seeing all the smiles and laughter from campers as they are able to enjoy some sense of normalcy with the Camp Manitou experience."
To register for summer camp at Camp Manitou on Feb. 10, visit CampManitou.CampBrainRegistration.com.
For any questions about summer camp at Camp Manitou, please visit CampManitou.mb.ca/Summer-Camp/FAQS or contact camp at campmanitou@tnse.com.