WJHA thankful for their volunteers during National Volunteer Week
April 24, 2020 2:48 pm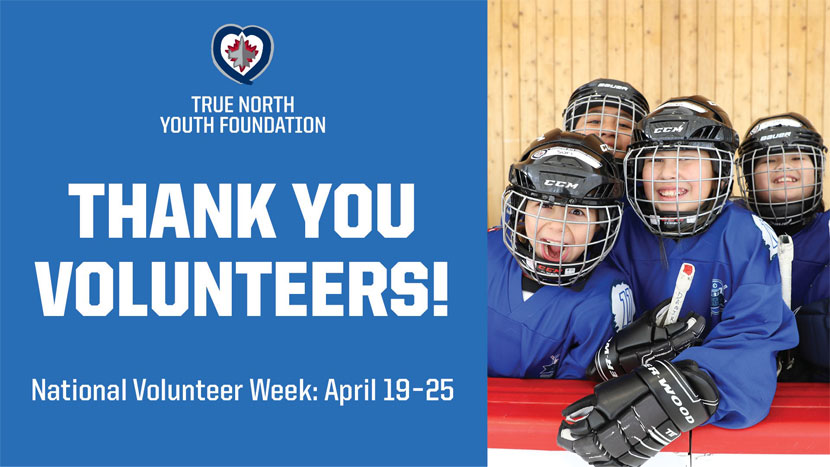 The Winnipeg Jets Hockey Academy (WJHA) may have been put on pause by the COVID-19 pandemic, but the truth is the program would forever be on pause if it weren't for the 125 volunteers that make the WJHA's impactful work possible.
Even with WJHA programming on pause, there is still plenty to celebrate with it being National Volunteer Week in Canada.
"Volunteers are what make the WJHA work," said Murray Cobb, Director of the WJHA. "They help with everything from equipment fittings to on-ice sessions. Everything we do is possible because so many people give of their time to inspire the next generation, which is very humbling."
Some volunteers decide to volunteer on their own, while many WJHA volunteers share their time through the Living Philanthropy program, which sees local businesses sponsor a class of WJHA students by sending their employees to volunteer during on-ice sessions each week.
The WJHA is thankful for the experiences the volunteers provide to the students, and when you talk to the volunteers, there is no doubt that their experience with the program is worthwhile.
"I am so happy that I decided to volunteer this year," said Lisa Parchaliuk, a volunteer from Maple Leaf Construction, which sponsors a WJHA class. "I think I got as much, if not more, from the program as the kids did. It honestly changed my opinions on a lot of things and gave me fresh eyes on what kids are dealing with on a regular basis."
Heather Pollock is a solo volunteer who formerly worked in the Winnipeg School Division. She decided to volunteer with the WJHA as she missed the interactions with students. Engaging with the students of the WJHA program has been meaningful and fulfilling for her.
"The connections made with the students are impactful. On the bench and in the dressing room, I have attempted to create and maintain a level of support, encouragement and respect with the children, and above all have fun. The TNYF is truly giving back to the community and providing an opportunity for children to learn and experience the game of hockey along with learning the importance of teamwork, discipline, respect for themselves and others, and a sense of community."
For Blake Fitzpatrick, also a Maple Leaf Construction employee, his experience has been enhanced by the WJHA staff that he's been able to work alongside. He's been inspired by the team's drive to make a difference in the life of each child that comes through their doors.
"I have met so many people, both staff and volunteers, that are so passionate about what they are doing," said Fitzpatrick. "No one is just happy with the status quo and there is this constant desire to improve among the amazing leadership group."
Though the volunteers may praise the WJHA for all they do, this week is about the volunteers and Cobb couldn't be more grateful for all of them.
"The slogan for the True North Youth Foundation is 'Empowering Potential'. That's exactly what our volunteers are doing. They come to the rink and they give these kids a listening ear, a friendly face, and they model what respect looks like on and off the ice. On behalf of the WJHA, and all of our participants – thank you to our amazing volunteers!"