12 Days of Giving – Day 1: Giving youth a chance to grow and give back at Camp Manitou
December 14, 2020 2:20 pm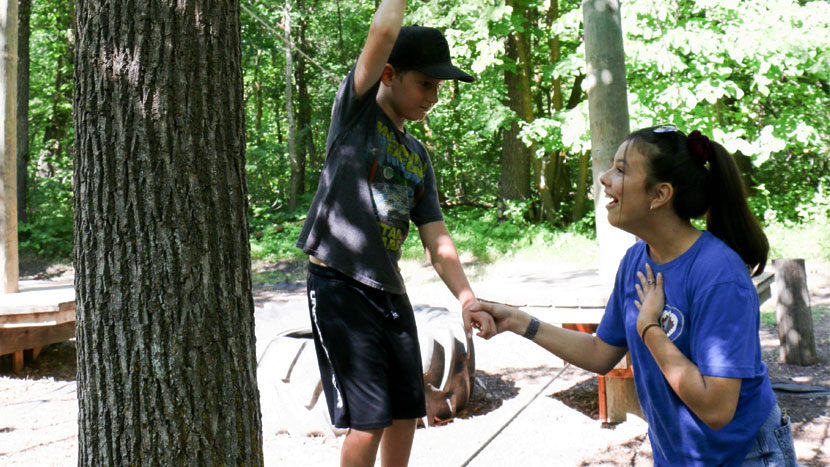 Though the True North Youth Foundation (TNYF) strives to impact the lives of many Manitoban youth, that isn't their end goal. Rather, the TNYF aims to mould the students they work with into people who pay it forward and look to impact the lives of others as well.
Krista, a Winnipeg Jets Hockey Academy (WJHA) student, is a prime example of that. As a WJHA student, she has been able to enjoy a week at Camp Manitou each summer while she's been in the program. Now that she's 14, Krista has transitioned from camper to volunteer assistant group leader. It's no coincidence she's chosen to give her time back to Camp Manitou and the kids who attend the camp each summer, given her own experiences.
"When I was a camper, I tried my best, but I didn't always like doing each activity," she explained. "The counsellors helped me get through each one and now I just want to be that person for others."
This past summer, Krista spent three weeks as a volunteer at camp working with groups of 7 and 8-year-olds. Volunteers are an important part of Camp Manitou's summer programming each year as they provide assistance to the group leaders to ensure things run smoothly throughout the day as they transition from activity to activity.
Clearly, Camp Manitou is not just a place for learning and development in kids, but also for older teens as they get the opportunity to manage new responsibilities, gain valuable work experience and new life and potential career skills.
That's easily seen in Krista's reflection of her camp volunteer experience.
"Being an assistant group leader has helped me with my confidence because it's made me get out of my comfort zone quite a lot and that even helped me to grow as a person," added Krista. "I get to understand where counsellors are coming from way better being on this side and how different it is. I'm definitely looking forward to coming back next summer."
Jennifer McAlpine, TNYF's Youth Career Counsellor with the WJHA, ran this year's camp volunteer program and saw how being pushed outside her comfort zone while working with youth in the camp setting provided some key takeaways for Krista.
"Communication and interpersonal skills are such a huge skill that youth just don't have as much because their main form of communication has been mostly through technology," said McAlpine. "So being able to build those relationships and that rapport with other group leaders and the kids is a valuable skill set."
It's obvious to McAlpine that the impact made on Krista by the volunteers and counsellors she interacted with as a camper have not only left their mark on her but have given her an example to follow.
"With Krista having been a camper previously and now working as a volunteer, she can execute the things that need to be done and make the camp experience as good as hers has been, or even better, by using those skills and engagement strategies her counsellors used with her."
Though Krista can easily recognize how camp has changed her for the better, she is just as excited, if not more so, to see how she is now helping the next generation of Camp Manitou campers to grow too.
"I want the kids to try their best even if they don't feel comfortable because I want them to grow as a person," she said. "I help them grow the confidence they need to get through the activities, like getting to the top of the rock wall. I get to see them grow during the week and how I impacted that."
That development process simply wouldn't be possible without the ability for the TNYF's programs to be integrated with each other, and without the opportunities that Camp Manitou offers for youth to take on responsibility as they grow.
Become a game changer for Manitoba youth like Krista by helping them gain opportunities to grow and develop through Camp Manitou and the TNYF by DONATING TODAY!