WJHA coach receives Hockey Canada coaching honour
May 15, 2020 1:41 pm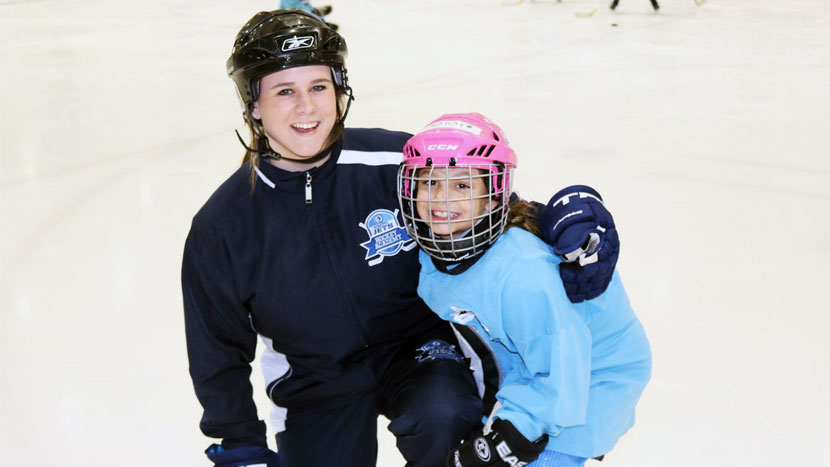 Coach Nicole McAlpine takes a lot of pride in the success of her hockey players. As gratifying as it is for her to see her players excel in skills and drills as a result of her hockey expertise, she takes the most reward from the success that players show simply as a result of gaining new belief in themselves.
This takes an entirely different coaching skillset and mentality. In working with underserved student athletes as part of the True North Youth Foundation's (TNYF) Winnipeg Jets Hockey Academy (WJHA), it is this softer side of coaching that is most impactful to her players', both now and for their futures.
If seeing her players develop confidence and resiliency is not reward enough for McAlpine, she was recently named Manitoba's BFL Female Community Coach of the Year by Hockey Canada. It's an award that recognizes coaches who exemplify leadership and the positive values of hockey and sport, and who have made outstanding contributions over an extended period of time through their coaching within Hockey Canada programs.
"I feel super grateful," McAlpine said, emphasizing her surprise in receiving the recognition. "I was shocked. I have put so much time and energy into my coaching these past few years, it really means a lot to me."
For Hockey Canada, the award recognizes the value McAlpine places on teamwork and her genuine care for her players, both on and off the ice. Her extra effort to ensure that players have a ride to the rink, even driving them herself when needed, stood out to the selection committee, as did her emphasis sportsmanship and communication.
As a teacher and the program coordinator of the St. James Assiniboia Hockey Academy (SJAHA), Jordan Sobkowicz works closely with McAlpine through the WJHA's work with the SJAHA. He has seen firsthand the dedication she gives to her team and players, and the skills and strategies she brings to the bench and the locker room.
"Not only does she have great knowledge when providing skill development feedback, but she does it in a way that fosters positive relationships for growth and understanding," said Sobkowicz, also noting her communication skills and preparedness for each session, whether a practice or game. "She wants her team to be at their best at all times, so she is relentless in finding ways to make them better."
Creating a sense of community among her team has been a priority for McAlpine. She knows this is the foundation, not only for on-ice success, but for the character development that will propel their skills even further.
"Instead of focusing on that win or the outcome of a game, my focus is on creating a family atmosphere in the dressing room," she said. "Somewhere they can have fun, feel safe, feel free to be themselves."
Keeping it lighthearted is another strategy she has found success with. It starts in players' attitudes and then skill development follows.
"Showing them you can have fun with them out there creates a fun atmosphere and I think they'll respect you a little more if they see you can be silly and laugh with them."
Having been around hockey her whole life, McAlpine also brings her own passion for the sport to each of her players. She knows if the players cannot see her own spark for the game, she would be hard pressed to motivate them to give their all for the team, and for themselves.
"Coaching the foundation teams, I know some kids have it tough at home, so being able to see them at the rink so excited for something has really inspired me," said McAlpine.
She's also enjoyed watching the progress of her players over the seasons and she is not just counting the wins. Her minor girls' team went from a winless season four years ago to what was a winning season before hockey was put on hold due to the pandemic this spring. She knows it is as much due to players' realization of their potential, as it is due to skill development.
It's through this perseverance that McAlpine has also gained their trust, a difficult feat when you consider some of their personal struggles.
"Some of them wanted to quit hockey, but I knew they needed it in their life as an outlet," she said noting the positive attitude shift that she often sees as practices progress, and also throughout the seasons. "It's special to see how much all my players have grown from their first year to now."
TNYF Executive Director Dwayne Green couldn't be prouder of McAlpine and what she brings to the WJHA.
"Nicole is a great role model for the girls on her WJHA team. She works hard, conducts herself in a respectful manner and teaches her players that we can learn from a loss when they happen," said Green, emphasizing McAlpine's focus on the life skills that players can gain through the sport of hockey. "Sincere congratulations to Nicole for being recognized for all the hard work she puts into her coaching. Her team is extremely lucky to have her as their coach."
After four years with the same group of minor girls, McAlpine has grown as a coach alongside her players.
When her team wins a big game or a player masters a tough drill he or she has been challenged by, she knows she is getting through to her players. But when her players realize they are worthy and start seeing beyond their original self-doubt and apprehension, this is when McAlpine knows she has made a real difference.
Experiencing milestones alongside her players and seeing the smiles on their faces are everyday rewards for McAlpine, but a few kids stand out as having given McAlpine her greatest joys in coaching: the kids who needed someone to believe in them and then started to believe in themselves; the kids who overcame their insecurities and gave that much more effort; and the kids who quite possibly challenged her the most, who started out by telling her they hated hockey, but who stuck it out with her encouragement and who now play because they want to and not because they have to.
"I love giving back and being that person behind the bench, that person they can look up to."