Working at camp all part of the development path for WJHA students
August 26, 2021 2:00 pm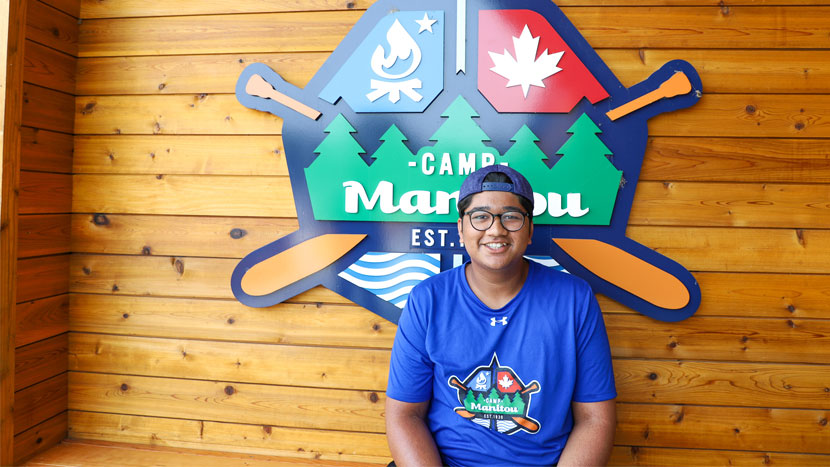 When you ask someone what their first job was, you expect to hear a role that they would never dream of going back to. When you ask some Winnipeg Jets Hockey Academy (WJHA) students about their first job, though, you instead hear about a fun-filled and exciting time. That's because they're spending their summer working at Camp Manitou, a True North Youth Foundation (TNYF) sister program to the WJHA.
"This is my first time ever having a job and working at camp has been a really great experience," said Rudra, a WJHA student going into Grade 12. "It's a really good job to start with and learn to communicate more and take on more responsibilities."
Who could ask for more out of a first job than spending the summer outdoors, hanging out with kids, and playing games?
"My experience has always been positive since I started working at camp, and I really enjoy activity leading," continued Rudra.
Working at camp isn't the first job for all WJHA students working there this summer. Aeidyn, a WJHA graduate, has found himself in other jobs previously but he's on the same page as Rudra with the thought that camp is the place to be.
"I'm enjoying the teamwork and camaraderie. It's different than any other job I've been in before. Here, you're outside more, you're not working at a desk or doing the same thing over and over again. Each day is new, and you never know what's coming at you."
Though both Rudra and Aeidyn have just started working at Camp Manitou, they're far from strangers to the site just west of Winnipeg. Both spent time there as campers through the WJHA and haven't wanted to leave.
"I came for camp in Grade 7 and 8, and then in Grade 9 the WJHA offered me a volunteering position which I took. I just kept coming back each week because I enjoyed it so much," noted Aeidyn.
While youth like Aeidyn have been coming back because they're having so much fun, something more significant is also at play. In full-circle effect, the kids who were once campers are growing into volunteers and staff – a perfect example of the mission of both Camp Manitou and the TNYF to provide Manitoba youth with opportunities to fulfill their ultimate potential.
Camp Manitou Director Audrey Hicks considers it a treat to see this mission in action every day in the summer.
"Development is on display constantly at camp," said Hicks. "We see kids developing new skills and new confidence as they try new activities. We see kids develop meaningful relationships with their counsellors. As a result of all of that, we get to see long-term development with youth growing from campers into roles of responsibility as staff. We're in a unique position where we get to impact the lives of youth, and it's wonderful to see them take the lessons they've learned and display them to the next generation of campers."
For youth who have grown up attending the WJHA, they don't just learn those things at camp in summer. The WJHA reinforces those same values year-round and it makes a huge difference for the youth in the program.
Aeidyn, in particular, has been able to cross-reference the lessons he's been learning in the WJHA and at camp.
"Just seeing coaches on the ice when I was in the WJHA and learning how they would act around kids would inspire me, and I would learn from their behaviour on how to act toward kids," said Aeidyn. "How they acted made the program and lessons so much more memorable. They were so kind and thoughtful, and I want to be the same thing for kids who come to Camp Manitou."
No matter what jobs Rudra, Aeidyn and other WJHA students working at camp this summer find themselves in down the road, modelling their work ethic and character after their WJHA coaches and other Camp Manitou staff is a great first step.