Jets 50/50 winner to use funds to help family members immigrated from Ukraine
May 18, 2022 1:22 pm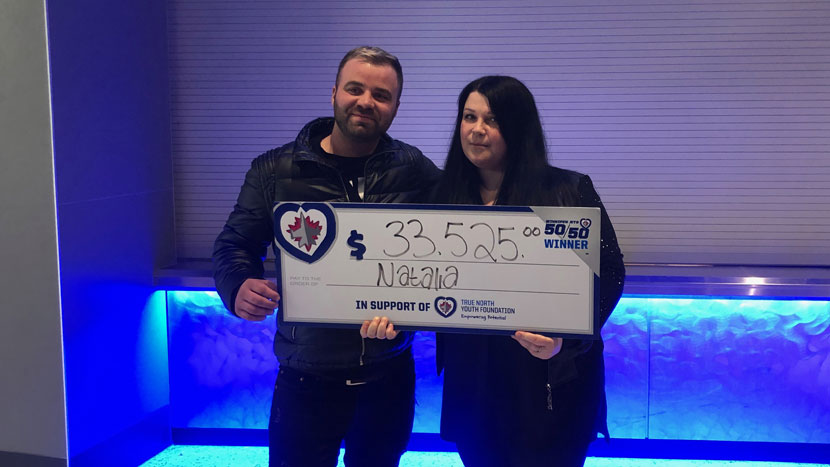 Picture this: a Ukrainian immigrant who has lived in Winnipeg for four years attends a Winnipeg Jets game. She brings her family members who very recently immigrated to Canada from Ukraine due to the turmoil in their home country. She decides to purchase a 50/50 ticket that night for the fun of it and ends up winning the jackpot.
It's a story that sounds too good to be true.
Nataliia Kuritsyna would have thought the same before that story became true for her at the Jets' final game of the of the 2021-22 season on May 1.
"My sister saw the lottery and asked what it was," said Kuritsyna of her recently immigrated sister who was at a Jets game for the first time. "After that, I decided to buy a ticket."
While you can't win if you don't play, Kuritsyna hardly expected anything to come of the 50/50 ticket purchase. Supporting the True North Youth Foundation (TNYF) and its programs – the Winnipeg Jets Hockey Academy, Camp Manitou, and Project 11 – was a good enough reason for her.
"When we realized that my ticket had won, everyone was very happy and excited. We screamed, laughed and couldn't believe our luck," continued Kuritsyna.
Though Kuritsyna's newly immigrated family members may be just learning about the hockey-crazed culture of their new home, her own immediate family has grown to love Canada's favourite pastime, along with many other favourite Winnipeg activities and hotspots in their four years in the city.
"Our favourite places to spend free time have become The Forks, the Assiniboine Park Zoo, ice rinks, and magnificent parks with incredibly beautiful nature. However, I certainly consider hockey to be one of the brightest and most amazing events. My entire family, especially my husband and son, are big Jets fans."
With all that the family has been through lately, there was perhaps no one more deserving of catching such a break.
Kuritsyna is extremely grateful for the extra funds that she plans to use to help her family members and others as they settle into life in Manitoba.
"Winning the Winnipeg Jets 50/50 will help me take care of my parents and sister who left to escape the war in Ukraine, as well as help many families who come to Winnipeg to escape Russian aggression.
"Stand with Ukraine. Thank you Canada, thank you Jets. Go Jets Go!"
The Winnipeg Jets and Manitoba Moose hockey seasons may be over, but you can test your luck with the TNYF Chase the Ace that's currently running and has an accumulator pot of over $53,000. Get your tickets before the next draw at WinnipegJets.com/ChaseTheAce.