WJHA Grad Profile – Erica
June 8, 2022 9:00 am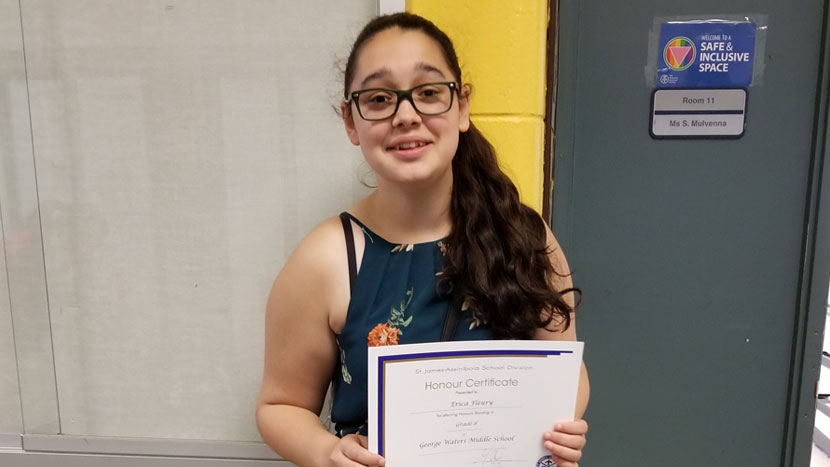 High school graduation is a time for reflection for students ending one chapter of their lives and starting another. For many, it's not the geography lessons or writing assignments that they'll look back on – it's the memories made with friends that will last a lifetime.
The same goes for the Winnipeg Jets Hockey Academy (WJHA). For students graduating from the program, it's likely not the skating lessons or stickhandling drills that will stand out years from now. Instead, it will be the relationships they've built.
That's already the case for WJHA student Erica, who graduates from the program this year.
"I will always remember going to all the after-school field trips with my friends. Being able to hang out with my friends is something I always want to do but can't because we are further away from most of them. The WJHA has allowed me to be around them after school hours."
It's not just her friends that Erica has been able to build relationships with while in the WJHA. Both on the ice and at the after-school program, Erica has built solid connections with the coaches of the program too.
Erica's mother Michelle has seen just how invested those coaches are in their relationships with her kids and all the students of the program.
"There are such dedicated staff and coaches that know the kids on a very personal basis," added Michelle. "They know their passions and what drives them, and they think about including them when different types of programs and opportunities present themselves."
They also know how to help them along their school journey, offering tutoring in areas where students need it, which Erica has appreciated.
"The after-school program was always there for me no matter what we were doing that day," she noted. "I've been able to hang out after school doing fun activities and get help with classes I was struggling in. Without the help of the after-school program, tests would be a lot harder to take."
Erica's brother, 20, who graduated from the WJHA in 2020 and now works in demolition and excavation, still thinks of the impact the WJHA coaches made on him too.
"The coaches were a really big influence in my life and helped me get better at working through problems instead of just getting angry and quitting. They helped a lot with bettering my communication skills."
The WJHA's coaches aren't just hockey coaches – they're life coaches too. That's because for the WJHA, hockey isn't the destination, but rather the vehicle to help kids along on their journey. Working with students like Erica towards high school graduation and setting them up for success beyond that is their real target.
Michelle has been a witness to that as her kids have progressed through the program.
"Hockey is only a very small piece of what they do with and for the kids," Michelle said. "The majority of their time together is teaching them very essential life skills that as parents we do our very best to teach – things like cooking, budgeting and resume building."
Getting that kind of coaching throughout high school has meant the world to Erica, and seeing that others really do care about her development and well-being is something that she'll take with her.
"The most important lesson I'll take is being able to recognize and rely on others when help is needed," said Erica. "The WJHA is always giving other kids and me chances whenever we need help with schoolwork, and they encourage us to push ourselves to do our very best."
As important as it is to ask for help when you need it, Michelle sees her daughter leaving the WJHA with an even greater lesson in her toolbox.
"The WHJA has helped break her out of her quiet shell so that she is able to see when someone else is struggling, and she actually helps others complete what ever it is they are struggling with."
Clearly, the WJHA has prepared Erica for not just stickhandling through pylons, but for stickhandling through life's challenges too.