WJHA student takes program learnings to the next level as an entrepreneur
July 29, 2020 10:30 am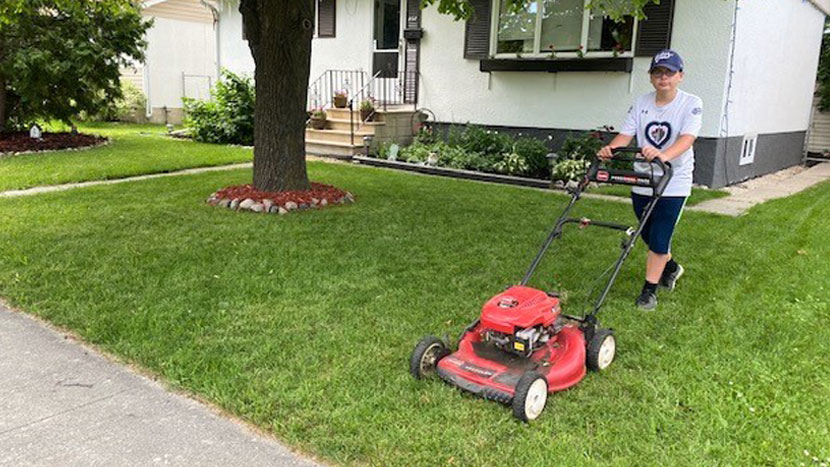 The last few months of the 2019-20 school year were far from normal. Education moved from classrooms to homes, and though recreational and other programs are starting to resume in Manitoba, finding activities to keep kids busy has been tough at times.
One Winnipeg Jets Hockey Academy (WJHA) student has been putting that extra free time to good use by spending the summer months focusing on his lawn care business. With the help of his parents, Riley, who is attending John Taylor Collegiate in the fall for Grade 9, created R.T.G Residential Services three years ago. This summer, the small business hasn't just given him something to do; Riley has been busier than ever and he's been learning plenty of lessons along the way.
"I have learned how to make money and become independent," said Riley, who also does snow removal in the winter through his business. "I've also learned good customer service skills, attention to detail, how to operate different machinery and how to set goals for myself."
Uncoincidentally, those lessons line up well with the core goals of the WJHA, including empowering students' potential and giving them the tools to succeed in their future. Despite the WJHA's programming looking much different than it normally did this spring, Riley has still taken in the lessons of goal setting, character building and leadership that the on-ice sessions and after-school program focus on and that continued to be promoted virtually during the pandemic.
The initiative Riley has shown with his business hasn't gone unnoticed by his WJHA coaches and mentors.
"It's awesome to see Riley's business expanding," said WJHA Minor Hockey Supervisor and Coach Alex Kampen. "He clearly does great work and takes a professional approach for his clients. Riley works hard on the ice as a player and in the classroom as a student. It's no surprise that he is having success with building his own local business."
Starting R.T.G Residential Services is just one sign of how Riley has grown his self-confidence, passion and drive since joining the Winnipeg Jets Hockey Academy in Grade 4. Though that growth has been clear for WJHA coaches and staff, it's even more evident to his parents, who have enjoyed watching how much the program has impacted their son.
"He's not as shy and has way more self-confidence than he ever had before. He's building more friendships and sets more goals for himself to learn and play better hockey," said Riley's mother Candace. He has matured so much over the years and continues to do well at school."
Some of those friendships Riley has built have become strong bonds, as his WJHA classmates Dominic and Xavier have been helping him during the busier months.
Students taking in all the program has to offer, realizing their potential and contributing to their community, is the ultimate end goal for of the WJHA. The program has given him a strong foundation that he continues to take initiative to build on, so no matter where or how far Riley takes his lawn care business, success is sure to be in store for anything he decides to pursue .