WJHA coach honoured with Hockey Canada BFL Female Coach of the Year award for commitment and impact on youth
June 3, 2021 10:18 am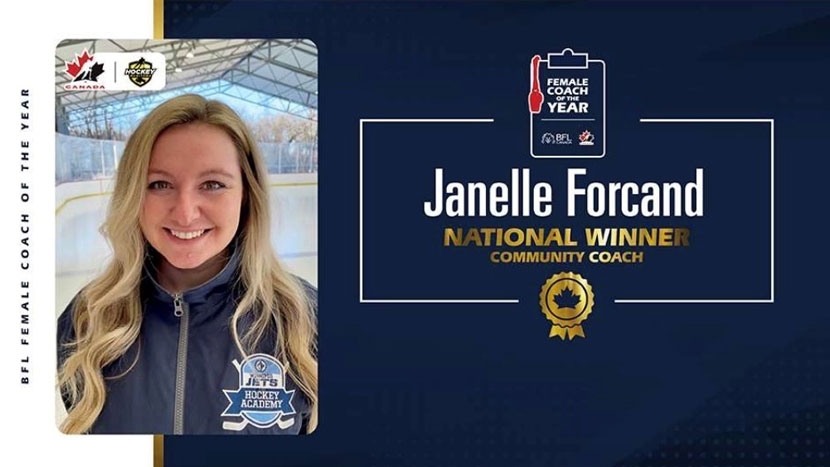 Continued education and development, leadership, emotional intelligence, and impact on hockey and community are the pillars of Hockey Canada's BFL Female Coach of the Year awards. Given those parameters, it should be no surprise to those who know Winnipeg Jets Hockey Academy (WJHA) Female Hockey Coordinator Janelle Forcand that she took home the award both for the province of Manitoba and nationally this year.
Forcand has continuously exhibited all those characteristics throughout her time with the WJHA, and certainly over the past year.
Her passion for coaching was on full display this past winter, when she showed a commitment to continued education and leadership by taking a Hockey Canada coaching clinic that she already had the qualifications for. Why did she attend? Because she wanted to support her assistant coach who needed to take it, and because she was curious how it was being run since it had been changed to an all-female course.
Having filled out a survey following the course, Forcand could only assume that an email from John Pucci, Manager of Business Development & Partnerships at Hockey Canada asking to speak with her over Zoom about coaching evaluations was due to her responses. How wrong she was.
"I got on the call and John said, 'we're actually not here to talk about coaching evaluations.' As soon as he mentioned BFL, the presenting sponsor of the award, I was like, 'oh my goodness, that's that award,'" Forcand said, noting fellow WJHA coach and True North Youth Foundation Social Media Coordinator Nicole McAlpine had won the award last year. "So, they told me that I had won the Manitoba community award. I was so thrown off that I started crying. I was speechless, because I like to think I can usually get a hunch on things, but this one I was completely thrown off."
A few weeks later, she found out she had been selected out of the provincial winners as the national award recipient.
As excited and humbled as Forcand was to win the award, there was admittedly a small sense of guilt for her which further emphasises her commitment to using her platform as a coach to make an impact on the game and in the community.
"How can you win such a fantastic award when the hockey season was kind of non-existent this year? As the year went on, I held a lot of weight on my shoulders that I couldn't give our players the season that they could have had, but when I think about it, the most important thing for me as a coach was that I knew that no matter what it was going to look like on the ice, I needed to show up. Even if it was a practice with four girls so we could social distance, I knew I had to show up and have a smile on my face."
Such was the case in several parts of Canada, and Hockey Canada knows that coaches had to work that much harder and were just as worthy of recognition in 2021 as in any other year.
"This is year two of the program," noted Pucci of the awards that see two winners per province – one at the community level and one at the high-performance level – as well as a national winner. "In year one, we had 72 applications. This year, we had approximately 115. For us to outdo the number we had last year, I think it speaks to the importance of the program, and the desire to recognize people who are making a difference in the game."
Murray Cobb, Director of the WJHA, will be the first person to tell you how big of a difference Forcand is making.
"Janelle truly exemplifies what it is to be an all-round role model who prioritizes the well-being of their players, ensuring each of them feels welcomed and important to the team. Examples of that include writing players individual letters when COVID restrictions cancelled the season, providing transportation to players in need, and continuing to run outdoor small group sessions in order to allow her players to stay connected during a most difficult season."
Forcand praises her assistant coaches for being there right alongside her throughout the season. They continued to bring a smile to the rink and to videocalls for the kids they coach and motivated her along the way too.
That's even more important to Forcand given that she and her assistants are female coaches coaching young girls.
"As a coach, I have that responsibility to be able to influence their life in a positive way, to teach them about the game, teach them about life, and instill positive skills that they can use in the classroom, in their community, and on the ice."
That perfectly sums up the reason Hockey Canada created the award in the first place. Influence on young players starts with coaches, and in order to grow the women's game, it's integral to have women blowing the whistles at practice and mentoring young girls.
"When you look at the research, coaches have a significant influence not only on the player, but outside of hockey as well," noted Pucci. "We felt if we are going to grow the women's game, we want more women coaches to be there because if a young lady plays the game and wants to stay involved and coach, she's probably going to look up to an adult woman."
Learning to be that role model has been a constant learning curve for Forcand, as she's navigated what it means to be a coach striving to teach her players much more about life than simply how to pass and shoot. She believes that making mistakes is key to continued learning and development. Ensuring players know that it's ok to make a mistake has been one of her main messages in striving to make hockey a welcoming place for young girls.
"I want to create a safe space for them. I don't ever want my players to not want to come to the rink. Even if they're so tired and the last thing they want to do is skate around on the ice, I want them to want to come even just to talk or hang out. If they're having a bad day, I want to be sure that they leave the rink in a good mood. The sport is so much more than a game, so I want to be sure that the girls that I impact see that by the end of each season."