SJAHA provides resources for students to practice hockey at home amidst practicing physical distancing
June 5, 2020 2:00 pm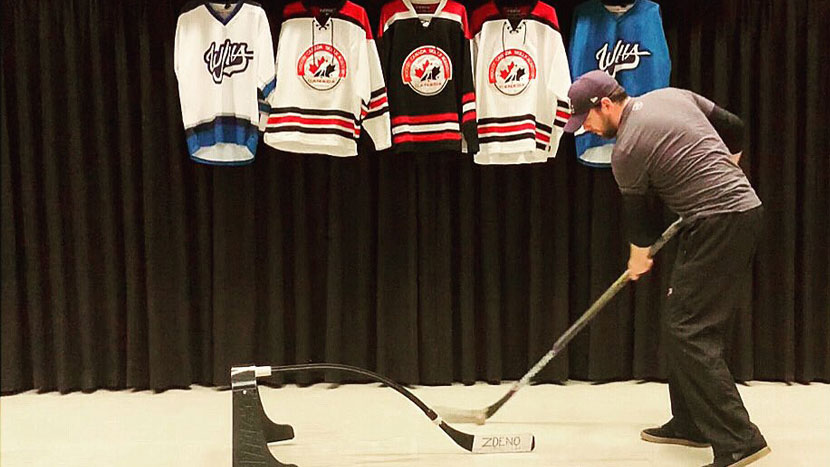 Practice and repetition – they're words that are commonly used by any sports coach. These words have now extended to our everyday lives through practicing physical distancing and seeing a lot of repetition in our day-to-day routines during the COVID-19 pandemic.
The St. James Assiniboia Hockey Academy (SJAHA), a Hockey Canada skills-based program that partners with the True North Youth Foundation's (TNYF) Winnipeg Jets Hockey Academy (WJHA) to provide quality developmental hockey programming to students of the St. James Assiniboia School Division for school credit, preaches practice and repetition in their programming regularly. Focusing on players' individual skills makes those concepts extremely important. If players want to improve, they need to practice frequently and use plenty of repetition to commit skills to muscle memory.
Like every other activity we are accustomed to participating in, practice and repetition have looked very different for the SJAHA over the last several months. Instead of practicing their wrist shots and edgework on the ice at Bell MTS Iceplex each week, the students have been forced to hone their skills in their living rooms and backyards. The instructors, led by Program Coordinator/Teacher Jordan Sobkowicz and Program Developer/Teacher Dale Baydock, have had to do the same as they've recorded skills and training tutorials from their own homes to keep the students engaged.
"We have set up a home learning page on our website that has stickhandling tutorials, stickhandling modules, goaltending modules, Joga (yoga from Hockey Canada) videos and off-ice workouts from Focus Fitness," said Sobkowicz. "Focus Fitness has also added a young athletes' series on YouTube which is really awesome for our students. We send an email home once a week to remind students to track the activity that they are doing on our activity tracker."
Stopping programming during the pandemic was never an option for the SJAHA coaches. Though the hockey season was nearing its end when physical distancing measures began, students can always improve upon their game, and physical activity is integral during a time like this.
"For us, providing pathways for students to be active daily is important to us," continued Sobkowicz. "Physical and mental health are important, particularly now, so we are trying to provide ways for students get up, get active and get better."
The students have appreciated the efforts, as they look forward to the day when they can be back on the ice with the program.
"It is important because through the videos, I learn activities that help me stay fit and ready for the ice as soon as the lockdown is over," said Divine, a 13-year-old participant.
"I learn and practice new skills while watching the videos without any distraction. That is what I like most about the virtual program. But I prefer practicing with my friends on the ice," added Winner, Divine's 12-year-old brother.
For Ugo, Divine and Winner's mother, continuing the program from a distance is about more than just being active during this time; she said it keeps kids engaged with hockey and physical activity so that they don't drift away from that once this is all over.
"In the absence of continued hockey programming, it is very easy for the student-athletes to lose touch with the sport, lose interest in participation, and risk becoming physically or mentally unhealthy," said Ugo.
The family became involved in the SJAHA through the WJHA, which annually provides funding for their students in middle and high school to participate in the SJAHA. This year, 185 students took part. This partnership allows students to continue in hockey programming after they have graduated from the on-ice offerings of the WJHA and keeps them connected to WJHA staff and students through their after-school program that extends to Grade 12, allowing the WJHA staff to continue their work of increasing school attendance through hockey.
The partnership is invaluable to families and kids like Divine and Winner, whose parents are very thankful for all the lessons being taught both on and off the ice.
"The on-ice sessions afford my boys the opportunity to make friends and socialize in a healthy environment under the supervision of their amazing coaches," said Ugo. "They learn important skills that increase their self-awareness and understanding of life. At the after-school sessions, they also learn how to become self-sufficient and more responsible students. The field trips are always very educating. There are also the Jets and Moose games they get to attend, skills competitions, summer camps at Camp Manitou, among many other things. On my own, I would not be able to provide my boys with all the positive experiences and exposures they enjoy through the SJAHA and WJHA."
Those lessons of self-sufficiency and responsibility have played out now more than ever, noted Ugo.
"As student athletes, my boys have developed a sense of self-discipline and hard work which they carry with them to other activities. During this time of distanced education, that habit of self-discipline has become extremely useful. Divine does not wait for my prompts to complete his daily assigned tasks for school and he routinely works out with whatever he finds around the house, such as two 4-litre vinegar containers filled with water for weights. He follows the virtual program from the SJAHA strictly and gets Winner to tag along. It melts my heart when I see him helping Winner exercise and teaching him stick-handling and slapshots in the basement and backyard. I give a lot of credit to the coaches for their exemplary work."
Clearly, it is not simply the content of the SJAHA training videos that is getting across to the students; the coaches' continuing commitment to practice and repetition while at home is an example that the kids are following too.
Baydock notes that it hasn't been easy, but perhaps that has made all of their efforts even more worthwhile.
"I've learned about the power of resiliency," said Baydock. "Keep doing things even though it is a really weird time right now. Staying motivated to learn and move really makes a difference from day to day. Seeing the entries that are pouring into our website about the activities that the students are doing are really encouraging and fun to read."
The SJAHA will no doubt continue to be resilient until students can be back on the ice. When they do get back, there will surely be smiles as students practice puck control instead of physical distancing, and as they do repetitions of saucer passes at the rink instead of repeating the same mundane stay-at-home schedule.