Jets focus on mental health awareness with January #HockeyTalks campaign
January 5, 2023 10:44 am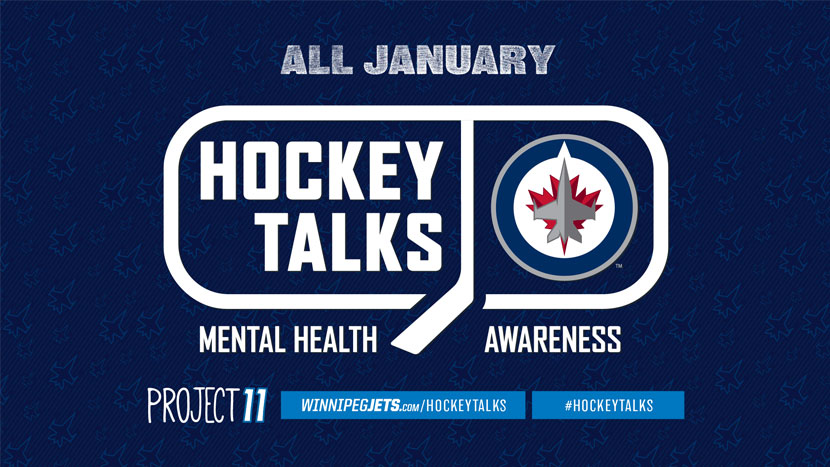 The Winnipeg Jets will focus on bringing mental health conversations to the forefront in January for #HockeyTalks month, particularly with their Jan. 15 #HockeyTalks game presented by Bell MTS. #HockeyTalks is the NHL's public awareness campaign that seeks to encourage conversations about mental health to reduce the stigma associated with mental illness.
To bring the conversations to their games, the Jets will host various mental health organizations on the concourse at each game in January, inviting them to share their resources with Jets fans. The work of Project 11, the True North Youth Foundation's cross-curricular mental health promotion initiative that is available to all Manitoba teachers for Grade K to 12 classrooms, will be highlighted at the Jan. 15 #HockeyTalks game.
The Jan. 15 #HockeyTalks game presented by Bell MTS, will aim to engage even more people in the mental wellness conversation. The game will open with a puck drop ceremony featuring Project 11 students from the early years, middle years and high school programs, while Project 11 will be on the concourse sharing their message and resources, and mental wellness messages will be shared throughout the game.
Jets players will show their support by wearing #HockeyTalks helmet decals on their helmets each game throughout the month. Additionally, players have been able to support the campaign by having conversations with Project 11 students about mental health. The videos of those conversations will be shared throughout January, both at Jets games and on the team's social channels.
Jets goaltender Connor Hellebuyck has made an extra effort to contribute to the mental health conversation by co-writing a children's flipbook containing two stories – Bucky Beats the Blues and Is Something Wrong With Weasel? The book is available at Jets Gear stores and TrueNorthShop.com for $11.37 (symbolic of both Rypien's and Hellebuyck's numbers), with all proceeds benefitting Project 11.
Fans will be able to show their support for mental health and Project 11 throughout the campaign too. #HockeyTalks hoodies are available for purchase at Jets Gear stores and online at TrueNorthShop.com, and Jets player-worn #HockeyTalks hoodies will be available for auction from Jan. 15 at 9 a.m. CT to Jan. 31 at 9 p.m. CT – stay tuned to Jets and True North Youth Foundation channels for the auction link later in the month. Proceeds of both the auctioned and purchased hoodies will go to Project 11.
The topic of mental health is at the forefront for many organizations in January, including Bell with Bell Let's Talk Day on Jan. 25. For more information on Bell Let's Talk Day, visit letstalk.bell.ca.
Fans can learn more about the Jets' #HockeyTalks efforts at WinnipegJets.com/HockeyTalks. Project 11 has also compiled a comprehensive list of community resource support organizations and their contact information which can be found on that page, or at the following direct link: ProjectEleven.ca/wp-content/uploads/2022/01/Community-Services-P11-Jan-12-2022.pdf.
To learn more about how the True North Youth Foundation works to provide mental health education and resources for youth, please visit ProjectEleven.ca. Teachers can sign up for virtual training at any time.