TNYF sweetened 50/50 pot and extended purchase time for tonight's Winnipeg Jets qualifying round game
August 6, 2020 2:42 pm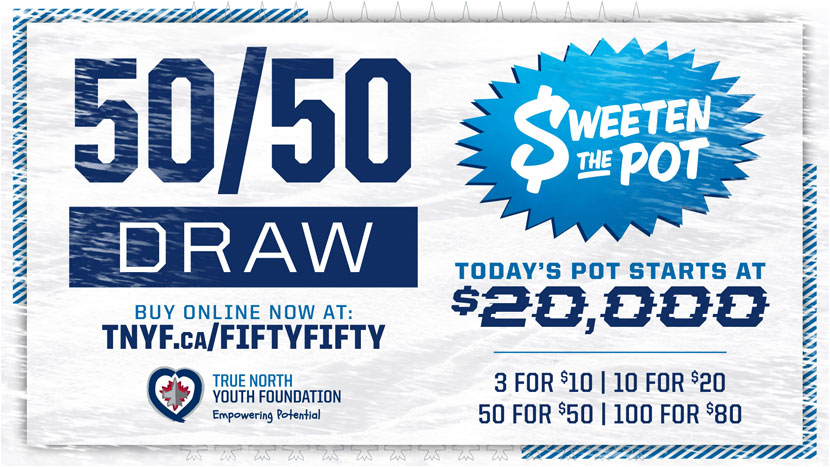 Tonight's away-game 50/50 jackpot will be sweetened for the fourth qualifying round game between the Winnipeg Jets and Calgary Flames. The pot started at $20,000 and already sits at more than $82,000 and growing, as today's draw also features an extended purchase timeframe with tickets available now and through the end of the third period.
Viewers can catch tonight's game on Sportsnet at 9:30 p.m. CT.
Tickets are available to Manitoba residents through a safe and secure online portal at TNYF.ca/fiftyfifty. The winning ticket will be drawn following the end of the game.
Tickets are sold 3 for $10, 10 for $20, or 50 for $50 and 100 for $80. The winner receives half of the pot.
The TNYF is the charitable arm of True North Sports + Entertainment and the Winnipeg Jets and Manitoba Moose Hockey Clubs. The 50/50 programs of both the Winnipeg Jets and Manitoba Moose are the primary source of funding for the TNYF. Funds raised support the foundation's three core programs – the Winnipeg Jets Hockey Academy, Project 11 and Camp Manitou – and allow the foundation to continue to make meaningful contributions to underserved youth in our community.
"It's exciting to watch this pot grow momentum having had a head start on purchase start time," said Dwayne Green, Executive Director of the TNYF. "We hope this sweetened pot and extended purchase period will make it more enticing and more convenient for fans to purchase their tickets for tonight's draw. With in-person classes resuming in the fall, we are looking forward to resuming our WJHA and Project 11 programming for students, as well as continue to offer our usual season programming at Camp Manitou. With our teams' 50/50 programs being the foundation's primary fundraisers, the NHL pause has significantly impacted funding for our programs. Money raised tonight will go a long way in helping us run the programs that so many youth are depending upon."
Last year, the TNYF had a positive impact on more than 60,000 members of our community, including throughout the pandemic through virtual programming, and the foundation continues to strive to do more to empower the potential in underserved youth across Manitoba.
To learn more about the True North Youth Foundation and its programs, please watch this video, https://www.nhl.com/jets/video/true-north-youth-foundation/t-277443454/c-46373503.