Graduating WJHA scholarship winners ready to put program lessons to the test
July 15, 2021 2:00 pm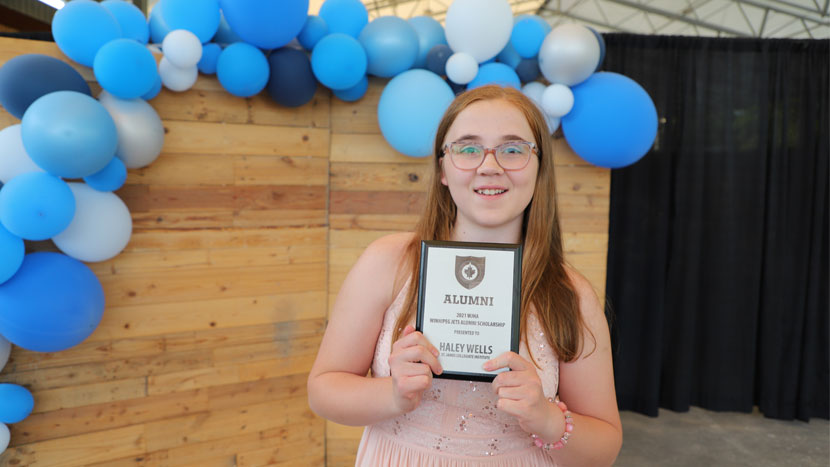 Through all the tests, exams, essays, and projects that school brings, the goal is to prepare students for life after graduation. The aim of the Winnipeg Jets Hockey Academy (WJHA) is to teach students lessons that complement the high school curriculum so they can find more success beyond the classroom.
Some of those lessons are more direct, such as a tutor helping a student learn about how to graph an exponential function. Some lessons are more general, such as learning self-confidence. Some lessons won't even be useful until further down the road.
Two students that have sought to take in as many lessons as the WJHA has to offer are Haley and Miguel, who were honoured with the Winnipeg Jets Alumni & Friends Scholarship and the Birdies 4 Blades Scholarship respectively.
"These scholarships are so important for our students, not only because it gives them something to work towards and can assist them in funding their schooling, but because they reaffirm the hard work and lessons that these students have learned throughout their years in the program," said WJHA Director Murray Cobb.
For both Haley and Miguel, the scholarships mark years of learning many lessons from the WJHA and remaining dedicated to the program.
"The program has given me a new view on life and how it can be better. It has helped me find a job and given me life skills to be successful," said Miguel.
"The benefits of the after-school program have been so amazing. They have taught me so many amazing things that will carry with me for the rest of my life," added Haley.
It's not hard for either Haley or Miguel to apply some of the lessons they've learned through the WJHA to their future plans. In Haley's case, she plans to pursue an education degree at the University of Winnipeg and become an elementary school teacher. She's already gained experience working with kids and youth through volunteering at Camp Manitou.
"I am proud of all the volunteering I was able to do," said Haley of her time in the WJHA. "We did a lot of community service with the WJHA. I'm especially proud of the volunteering at Camp Manitou. That week I got to do a lot of good."
Perhaps one of the biggest lessons she took away from those volunteer and other experiences in the program was learning to try new things and go outside her comfort zone.
"Being outside your comfort zone isn't bad a lot of the time. Being outside your comfort zone is where you have the most fun," she said.
Haley specifically recalls one WJHA after-school program activity where a group of students were on a Habitat for Humanity site to help in building a house.
"I had never done anything like that before. I had zero woodworking skills and that day was hammering nails while on a ladder. It definitely pushed me to do things I wouldn't regularly, and it was really fun trying new things with my friends and laughing with each other."
In the not-so-distant future, it very well might be Haley teaching her young students to take their own risks by going outside their comfort zone.
For Miguel, who will be using the Birdies 4 Blades scholarship towards studies in nursing in the fall, the WJHA has shown him what kind of impact a support system can make.
"The WJHA has taught me that through life, I'm always going to have supporters behind me to help me achieve my goals. When I was on the ice, I always had my friends and coaches helping me out, which led me to becoming better at skating and playing hockey, and I'll forever be grateful for that."
No doubt that positive experience of feeling supported will only make Miguel more valuable as someone who will offer support to many people as a nurse.
Seeing students like Haley and Miguel develop as they move through the program and find their passions brings Cobb a lot of joy, and he loves to see how their time in the WJHA has impacted those passions.
"Haley and Miguel are two great examples of students who have taken all that the WJHA has to offer," said Cobb. "We try to give students lots of different experiences through on ice sessions, tutoring lessons, and after-school field trips. It's amazing to see students find that area of interest from those experiences, hone in on it, and take the lessons out of it that they can use in their life. Haley and Miguel have already been applying some of those learned lessons to their lives, which makes them so worthy of these scholarships and can only mean great things for their futures."
Cobb knows well that Haley, Miguel, and their fellow WJHA graduates have plenty more lessons to learn beyond the WJHA, but he's confident they've been given the tools to face those challenges head-on.