WJHA student finds community in pow wow dance circle and the faceoff circle
April 1, 2022 9:00 am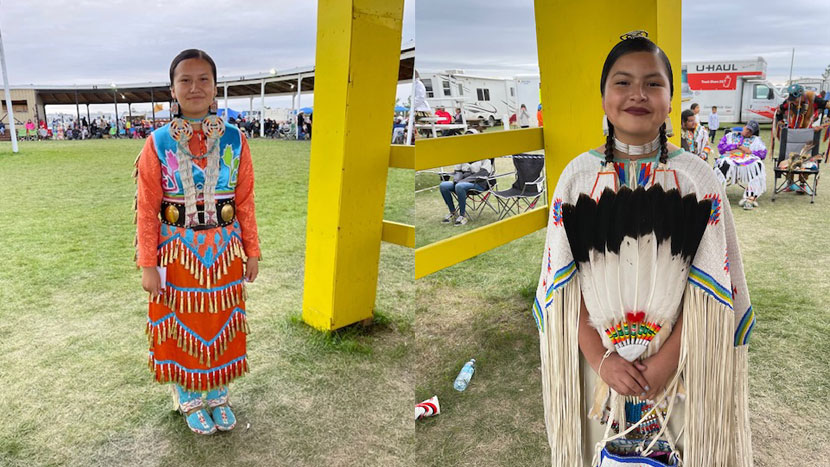 Ever since 15-year-old Winnipeg Jets Hockey Academy (WJHA) student Serene could walk, she's been participating in Indigenous pow wow ceremonies. As an Anishinaabe girl, it's an important part of her and her family's culture.
"Pow wow culture has always been a part of my life. It's my way of life," said Serene. "I've been involved in pow wow since I was in my mom's womb. My family has always attended pow wows. As soon as I could walk, I was taught to dance. It's our way of life. I'll dance my whole life."
Serene's mother, Billie, has of course played a big role in ensuring both she and her sister Chloe have been involved in pow wow ceremonies throughout their lives.
"When I was pregnant with each of them, we attended powwows and ceremonies," Billie reiterated. "As soon as they were able to walk, regalia was made for them, and they were taken into the circle. Today, they travel all over attending different pow wows and dancing competitively."
The fact that pow wows are an important part of their Anishinaabe culture is naturally a big reason for their involvement. But the community that they experience at those ceremonies is perhaps the most important part to them.
"I enjoy hearing the singers and drummers, I enjoy watching everyone have a good time, I enjoy watching people bring their own style to the dance floor, I love the food, I enjoy spending time with friends and relatives, and I feel beautiful in my regalia," said Serene, listing off the many amazing elements of pow wows. "It brings good feelings all around.""
Away from pow wows, Serene has been able to find another community where she tends to wear a hockey jersey instead of her Indigenous regalia. The WJHA has become another home for both her and Chloe, both in their participation on the ice with the hockey program and off the ice with the tutoring and after-school programs.
"I love being a part of the WJHA because it allows my siblings and I to seek new skills and opportunities," said Serene. "The WJHA has provided me with many great friendships."
That's thanks in no small part to the work of the WJHA's coaches, who put endless effort into ensuring each participant feels at home in the program. Billie has seen that play out in her daughters' lives.
"The WJHA creates community. I see how much the coaches and program do for the children through sport, health, and opportunity," she said. "My daughters have been able to grow and flourish in sport. Every time I watch them get on the ice it makes me feel so proud."
Billie has come to know the WJHA as more than just a place where her own daughters have gained valuable opportunities and she's seen that for all students regardless of background, culture, or any other factors.
"I've witnessed the WJHA provide opportunity to every child they are able. I'm thankful for the opportunities they've provided my children. The WJHA has definitely created community for many races and cultures."
That perhaps means the most to Billie, as well as Serene. Having a place where she is as free to be herself and express her culture as when she's dancing at a pow wow gathering means the world to her – and you can bet she'll continue sharing her Anishinaabe culture proudly with her WJHA friends.
"I carry so much pride being an Anishinaabe, Plains Cree, Dakota woman. And I feel that it's important to keep our culture alive and thriving."