Strides of Success
October 30, 2019 2:16 pm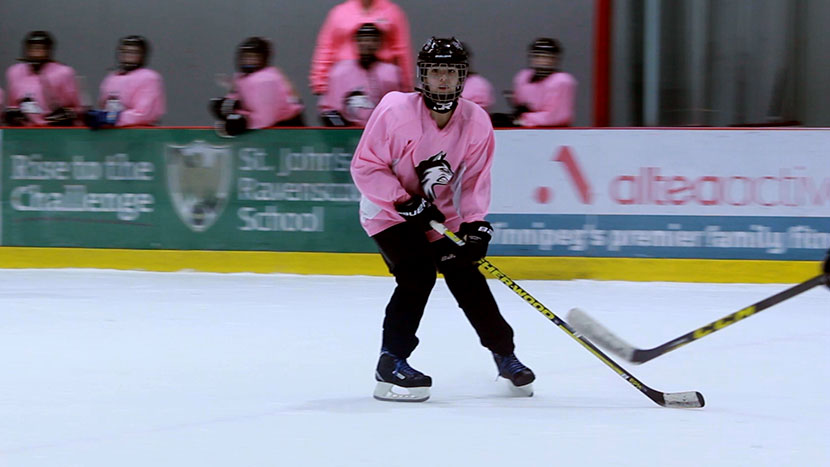 Alexa has always been a quiet, respectful and determined individual. She joined the Winnipeg Jets Hockey Academy (WJHA) in Grade 6 at Ness Middle School and from the beginning was a great teammate, consistent attendee and one of the hardest workers on the ice.
Coaches always took note of her attitude and work ethic and in Alexa's fifth year in the WJHA program she invited to join the WJHA Female Bantam girls' team by Coach Nicole.
"Still to this day, I can remember sitting in Focus Fitness during a workout day asking Alexa to join the team. She was extremely hesitant on joining as she had never been a part of a team before," said Head Coach Nicole.
Since joining the Female Bantam girls' team Alexa's confidence has skyrocketed. She has become more outgoing, talkative, and proud of her consistently improving hockey skills. On the ice, Alexa's body language exudes confidence and she has very quickly grown into an assured player which adds to her enjoyment in coming to the rink each time.
"Being a part of a team has allowed me to gain new friends, have the chance to start encouraging other players to be self-assured, and I love being a part of a community at the rink and outside," Alexa said.
The Bantam girls had a rough start to the 2018-19 season losing most games by more than five goals. During that stretch Alexa remained her determined, respectful self and worked hard to encourage teammates when they got down. She would be the first on the ice, working on her stick handling, shooting, and skating before practices. Playing defense, she took pride in supporting and communicating positively with her partner on the blue line.
The leadership skills Alexa brought to the team showed during pre-game warm-ups as she would lead the team from the dressing room out into the halls to go for a run stretch. As the season progressed, Alexa and the team put all their energy into practices, school skates and games and began seeing improvements, not only in their skills but also on the scoreboard.
"My first year on the WJHA minor team I improved my mental skills as an athlete. Outside of the rink, I started to show more communication skills, time management and organization and I noticed my body language changing, I became more confident in myself."
The leadership Alexa showed at hockey and in the after-school program lead her to become the first Grade 11 student to take on the role of activity leader at Camp Manitou this past summer. Her ability to strive in a new environment shone throughout her work experience at camp.
Fast forward to September 2019, now in Grade 11 at Sturgeon Heights Collegiate, Coach Nicole presented Alexa with the idea of trying out for the Sturgeon Heights Collegiate Girls Hockey team. It was an intimidating thought but Alexa decided to take a leap of faith. Despite wondering if she had what it took through tryouts, Alexa will proudly sport a Sturgeon Huskies jersey this season.
"I have never felt prouder as a coach," said Nicole. "To hear the excitement in her voice and see the smile on her face when she shared the news that she would be playing high school hockey, is something I will always remember."