Josh Morrissey surprises Welcome to Winnipeg participants
December 17, 2018 4:44 pm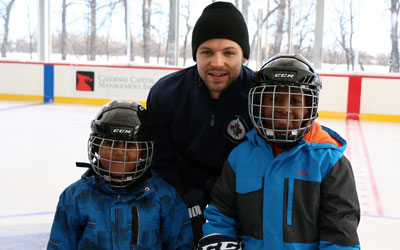 Camp Manitou is once again host to the Welcome to Winnipeg initiative which provides a crash course in winter to newcomers to our city. Six sessions will be held throughout the winter months with the first three sessions having taken place in early and mid-December. The first event was geared toward adult participants while the second two were geared toward families with 80 newcomers from IRCOM (Immigrant and Refugee Community Organization of Manitoba) and 60 newcomers from Welcome Place enjoying a fun winters day on Dec. 15 and 16.
"IRCOM is like a second home and gives its members a feeling of family." said Program Support Worker, Saman Mahmood. "If you are new to Canada, being able to experience snow in a different environment and not just a scary thing that you see is important. They learn that snow is not just cold, it can be fun. The group is bundled up and ready to face anything. They are looking forward to trying tobogganing and skiing but are most excited to try ice skating and hockey."
The participants had a chance to toboggan, snowshoe, cross country ski and skate. Some newcomers were hesitant when trying their first steps on the rink while others howled with laughter as they walked on ice for the first time. The group also had the opportunity to learn how to make bannock and cook it on a bonfire.
To top it off, Josh Morrissey from the Winnipeg Jets dropped by the new outdoor rink at Camp Manitou during his day off to surprise the group, joining the new Canadians for their first-ever skate!
Alemayehu came to Canada two years ago with his 9-year-old son, Tedros, and his 7-year-old daughter, Ellenei. Originally from Ethiopia, Alemayehu made it Canada through a Sudan refugee camp. IRCOM has tremendously helped the single father adjust to Canada.
Compared to Ethiopia, "Winnipeg is very different, strange, interesting and very friendly." Alemayehu has enjoyed the freedom of being here and not being afraid to leave his house. He was looking forward to the Welcome to Winnipeg event as it was a good opportunity to spend time with his family.
The first three months Alemayehu was here, he didn't understand the white stuff falling from the sky. He also didn't understand how the ice was made and that you were able to skate on it! He had never seen a hockey game even on TV as soccer (football) is big where he is from. His kids drive him crazy with the "Go Jets Go" chants and talking about their favourite players Blake Wheeler, Dustin Byfuglien and Patrik Laine. He was looking forward to trying hockey and meeting a Winnipeg Jets player so he could understand what their excitement was all about.
Despite skating being "very, very difficult", it was also Alemayehu's favourite activity of the day. He is grateful to IRCOM and the Welcome to Winnipeg program as it is a gift to his family to be able to enjoy the snow and try new activities. "When the kids are excited, the cold doesn't matter."
As part of the program, the participants each receive a ticket to an upcoming Winnipeg Jets game and a $25 gift card to Jets Gear. Alemayehu and his children are excited and looking forward to experiencing their first professional hockey game. We are sure to hear them cheering for number 44 from the stands.