What's new at Camp Manitou
December 17, 2018 4:35 pm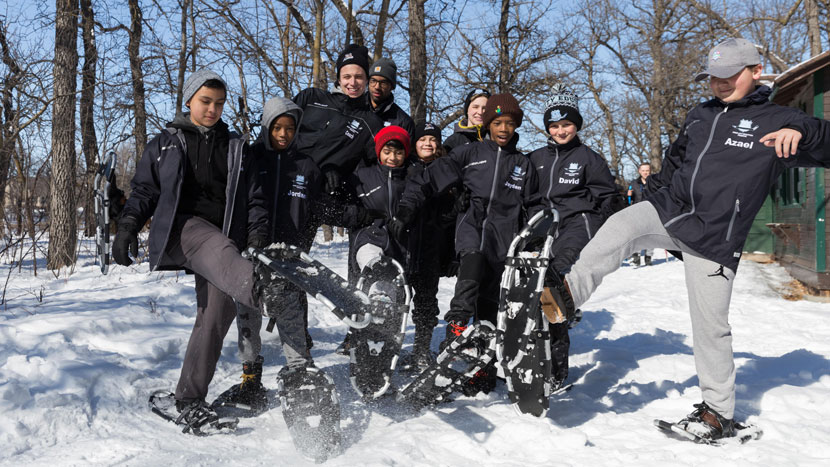 The snow is here and winter activities are up and running at Camp Manitou with an improved toboggan slide, increased size selection of snowshoes and cross country skis as well as a new outdoor rink with a canopy over top of it for rental groups to enjoy. The latest addition is one of the most exciting developments to date as it can be used in the summer for camp activities as well as keeping the sun and rain out. The rink is the only one of its kind in Manitoba, with a roof to keep snow off the ice and an ice plant to extend the skating season from October to April.
The new outdoor rink at Camp Manitou is being used by the Winnipeg Jets Hockey Academy minor teams four days per week. In addition, all weekend rental groups are given the opportunity to use the rink when they are staying overnight. The winter rental groups have access to helmets, skates, gloves, sticks and pucks to help them take advantage of the rink. Once the equipment arrives, broomball will also be another option for groups. In the summer, the rink will allow for the introduction of new activities such as mini tennis and basketball.
Another exciting addition to the Camp Manitou landscape is the Welcome Center. The building is slated for completion at the end of January and will serve as the drop-off and pick-up location for school groups and summer campers. The Welcome Center will also include a secondary dining space for groups of up to 50 people and also doubles as a meeting space and offices for camp staff. The building will allow for multiple overnight groups at one time as it provides additional programming space as well as two accessible showers for campers that are staying in the cabins.
The Welcome Center is located at the Camp Manitou entrance and will greet rental groups, school groups and campers upon arrival. The inviting set up will provide user groups a check in point so they can get clear directions and will help control the flow of traffic. The decrease in vehicle traffic around camp will bring added safety to all outdoor play areas.
Camp Manitou also has an exciting expansion plan that includes a new 10,000-square-foot lodge that will double the dining hall capacity and provide abundant space for overnight campers and rainy day activities. A 150,000-square-foot man-made lake will be developed, providing a safer and better controlled water environment, compared to the nearby Assiniboine River, that will expand water activities like canoeing, kayaking and swimming.
Also on the horizon for Camp Manitou is the development of mountain bike trails, a beach volleyball court, petting zoo, and high ropes course, which will poise Camp Manitou to provide an even more diverse camp experience to more kids than ever before.