New beginnings for WJHA veteran
October 30, 2018 9:39 am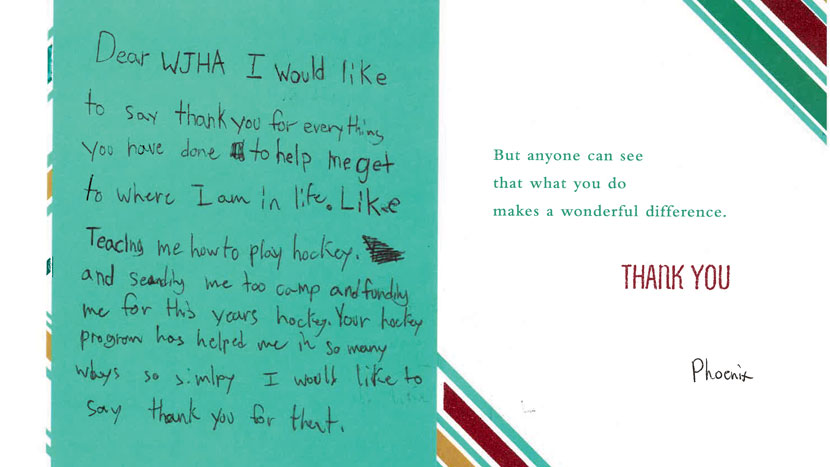 Phoenix, a Winnipeg Jets Hockey Academy (WJHA) student of six years, is set to embark on a new journey on a new hockey team in a new town. Phoenix and her parents, Tresure and Ash, are moving to the community of Airdrie, Alberta. Before heading out on their new journey, they thanked the WJHA team.
"Everything you have provided her with since joining the program, one of the first years as a Grade 2 student when she knew nothing about skating or hockey at all. You have taught her so much and provided her such amazing opportunities from the very beginning. From the in-school and after-school programs to the extras such as Jets game tickets, skills competitions, Camp Manitou and so many more other field trips and events. Then, as you opened the opportunity to the group of kids to start in the league and invited Phoenix to be a part of that first group to play. This is truly an amazing program!"
Tresure and Ash also wanted to mention the ongoing support and positive impact the WJHA has had on their daughter. "The continued support and opportunities you have provided Phoenix for her to continue with her hockey career as we embark on this new chapter in our lives has come as an amazing surprise that we couldn't be more grateful for. Yesterday Phoenix had her first hockey evaluation here in Airdrie and although she was a bit hesitant at first with the overwhelming amount of people when we walked into the arena, she did fantastic and I can't express her excitement as she came out of the dressing room and on the drive home as she spoke of her goals for her hockey future here. She couldn't stop talking about the different teams they have and what they do."
Phoneix is one of only five girls in her age group and between all eight teams, she is outnumbered by the boys, but her parents know that she is coming into it with confidence and determination from her days with the WJHA.
"That doesn't discourage our Phoenix! She made new friends with some kids who attend the same school that she hadn't met yet as they are in different classes. All this will help her transition in her new community so much easier, and that is such a relief as a parent, seeing her able to make friends and fit in, which we all know can be very hard to do."
Special thanks were passed along to coach Alex, "for all that you have done to help find her the right program and all the extra effort you have put in to ensuring that she has a great start here in Alberta. You are all amazing people and the support you give all the kids in all these programs is amazing. You all show how much you care and want the kids to grow and succeed. These programs have helped enrich Phoenix's life so much that we are forever grateful for every opportunity and bits of encouragement, support and love you have given her."
Phoenix herself was very grateful for the opportunity. "I would like to say thank you for everything you have done to help me get to where I am in life. Like teaching me how to play hockey and sending me to camp and funding me for this year's hockey. Your hockey program has helped me in so many ways, so simply I would like to say thank you for that."
Phoenix has come a long way from learning how to skate, to creating new teammates and friendships, and we wish Phoenix the best of luck in this new chapter. We look forward to hearing how she grows and succeeds throughout her journey.