Learning from each other in Churchill
October 30, 2018 9:48 am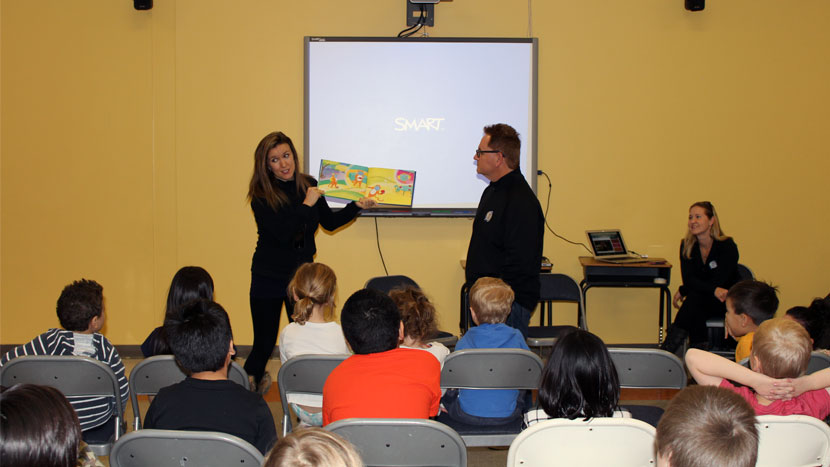 Project 11 receives many requests for speakers in remote and northern communities and the team was excited to make in-person connections at the Duke of Marlborough School in Churchill in mid October. The team was greeted with a very warm welcome by staff and students as they spent two days introducing the program and delivering educational sessions and also getting acquainted with "Polar Bear Capital of the World" and its unique community.
The entire school had a positive and friendly attitude. Teachers were eager to add Project 11's mental health lessons and intermission videos to their weekly schedule and whole-heartedly encourage the next generation to practice resiliency and add to their healthy coping skills with Project 11's "toolkit". The early years students were enthusiastic, very engaged in discussing mental health and were attentive in following along with the "Mindful Monkey Happy Panda" picture book read aloud to them. The middle years and high school students were very reflective when sharing some of their personal stories and had many questions for Craig Heisinger and the Project 11 team.
The Town Centre Complex is a great support that brings the community of 800 together. The inviting complex overlooks Hudson Bay and connects both the Duke of Marlborough School and the hospital, while also housing a community library, gymnasium, fitness centre, indoor playground, curling rink, movie theatre, bowling alley, swimming pool and daycare. Students appreciate having access to the resources and amenities that their K-12 school provides them. It's their second home and keeps them very connected to school and to each other.
The team had a chance to get to know many of the locals at the school and at the hospital, learning that some had planned to move to Churchill and stay only for a year or two, and now many years later, plan to keep Churchill as their home. Others who were born and raised in Churchill have no desire to move south, despite the obstacles they have faced, including the closure of the railway, which left them somewhat isolated.
It wasn't only the students that were left with an impression following the brief visit. The P11 team witnessed a very beautiful place with a positive and resilient community that works together to overcome its challenges.