Expanded horizons and new friends WJHA hosts Chicago counterpart
April 17, 2018 10:17 am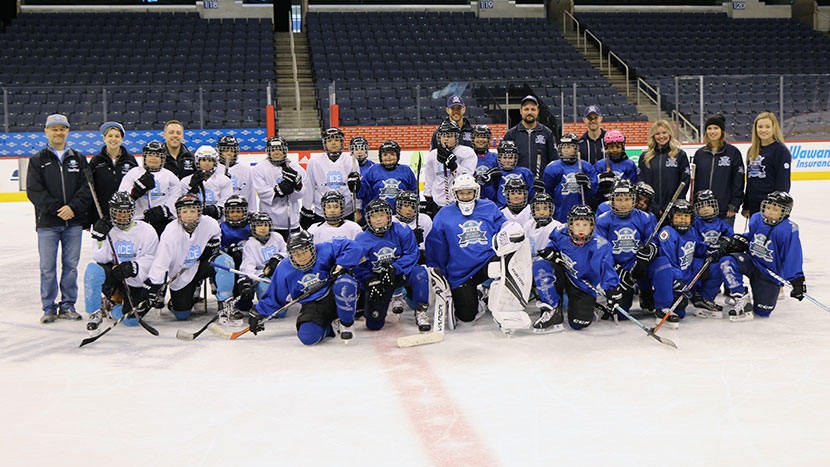 The Winnipeg Jets and Chicago Blackhawks are Central Division rivals, but they shared another connection in March when Chicago's Inner-City Education (ICE) program headed north to join the Winnipeg Jets Hockey Academy (WJHA) for a weekend of team building and cross-cultural interaction.
An official partner of the Chicago Blackhawks, the ICE program is very similar to the WJHA, striving to develop students, both on and off the ice, through mentorship, academic tutoring, and of course, hockey. Not only did the visit expand the horizons of kids from both cities, but it was an opportunity for both programs to learn from the successes and challenges of the other.
"The opportunity was a natural fit," said Murray Cobb, Director of the WJHA. "It's another form of life exposure that we can give to our kids."
Hosted by Camp Manitou, the group of 9 to 11-year-olds spent three days enjoying camp activities, playing hockey, and visiting Winnipeg attractions like the Canadian Museum for Human Rights, Assiniboine Park Zoo, Skyzone, and of course, the Jets vs. Blackhawks game.
It was the first time on an airplane for most of the ICE students, as well as their first time being away from home, and even their first time playing in a real hockey game.
"Though it was only a two-hour flight, I think it went a long way toward expanding their world view," said Erickson.
Nicole McAlpine, a WJHA chaperon observed many heartwarming interactions, from the fun of snowball fights and karaoke competitions to the brotherly/sisterly role that the young hosts took on.
"It was pretty cool that some of our kids would help the Chicago kids with their equipment, untucking jerseys and helping with skates."
Camaraderie was the clear highlight of the weekend.
"We asked the kids at a campfire one night to name their favourite part of the trip and almost every single one said it was meeting the kids from the WJHA," said Erickson.
There is likely more camaraderie in the kids' future as the ICE program looks forward to returning the hospitality with an invitation to Chicago next season.