Meet Thomas Nowicki, a TNYF part-time employee and jack of all trades
August 22, 2017 4:23 pm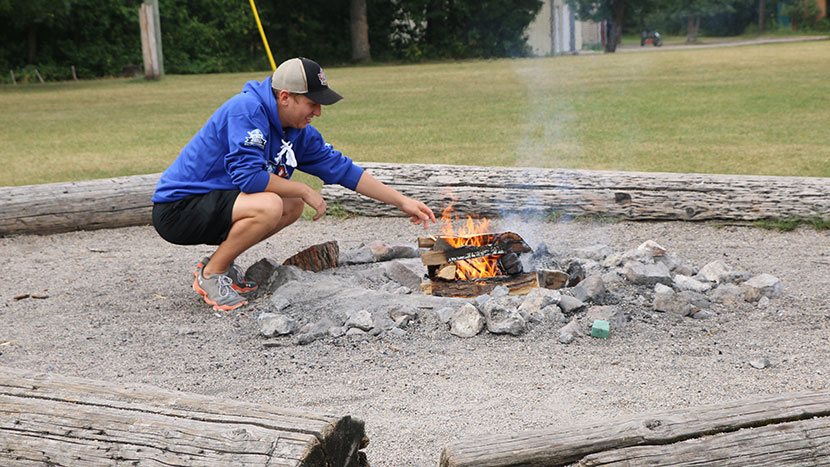 As a student in the Recreation Management and Community Development program at the University of Manitoba, Thomas Nowicki opted to complete a fieldwork placement. He was presented with many options at a career fair and his parents helped influence his decision knowing he wanted the opportunity to be part of an organization that creates positive change in the community and provides opportunities to youth. Thomas chose the True North Youth Foundation (TNYF) due to the blend of office, programming and event work.
He started his internship in September 2015 and Nowicki fit right in due to his strong work ethic, friendliness, athleticism, personality and education. Thomas has taken on a variety of roles and has in fact become a jack of all trades at the foundation. He has been an on-ice instructor for the Winnipeg Jets Hockey Academy (WJHA) program and has helped out in the after school component as a session leader. He has helped with various fundraising events and this past year took the lead role in running the 50/50 raffle during Manitoba Moose home games.
Since graduating in February 2017, Nowicki has also assisted in the day to day operations of Project 11 but most recently, he joined Camp Manitou's summer staff as Scheduling Manager. Camp Manitou, a year-round camp located five minutes outside of Winnipeg, has grown significantly over the past four summers and on its busiest days over 200 children participate in 17 different activities with the help of 50 part-time employees. Thomas ensures that each group receives the best camp experience by scheduling a variety of activities that are age and skill appropriate. He also makes certain that a balance of camp skills like fire building and shelter set up as well as adventure activities like wall climbing and zip lining, are incorporated into the schedule. Other popular activities requested by groups are fishing, archery, low ropes, bannock making and swimming in the heated pool. Thomas crafts the schedule carefully so that groups move in a natural flow from one activity to another. Nowicki welcomed the challenge of scheduling programming and staffing at camp. He artfully matches staff to activities based on skill sets and preferences to ensure an excellent camp experience for participants while giving activity leaders variety in their daily schedules. Thomas feels that his new role has been rewarding as he has "really enjoyed seeing both campers and staff have a great summer camp experience". A highlight was seeing some of the WJHA student athletes that he works with during the school year enjoy a week at camp. Nowicki appreciates the ability to be able to connect with the kids throughout the entire year as he gets to witness students thrive in various settings.
According to Thomas, the most challenging part of working on the front lines is when students don't listen. "You don't always know what's going on in their personal lives and you can't always help them." The most difficult moment he experienced was when a student became increasingly emotional and combative. The intense situation was a learning moment for Nowicki in terms of calming the student, and keeping other students safe while managing the issues affecting the panicked youth. Thomas loves seeing the real impact that the foundation's programs are having on youth in Manitoba.
Over the past two years, Nowicki has seen the three core foundation programs grow in size and scope as well as the foundation's increased involvement in rural Manitoba. He is most surprised by the variety of work found at the TNYF. "You can start off your day in a track suit at Hockey Academy and end up in a suit in the evening working 50/50 at the Bell MTS Place," says Thomas. As a result of his skill set and desire to make a positive impact in his community, Nowicki was offered year round employment at the foundation. He credits his mom for showing him that hard work, being friendly, and accommodating can go a long way in realizing your goals.
When Thomas is not working or enjoying nature at his cabin, he is playing sports which include hockey, spongee, tennis and golf. He also enjoys reading and cooking.