New journey for WJHA grad
September 21, 2018 4:51 pm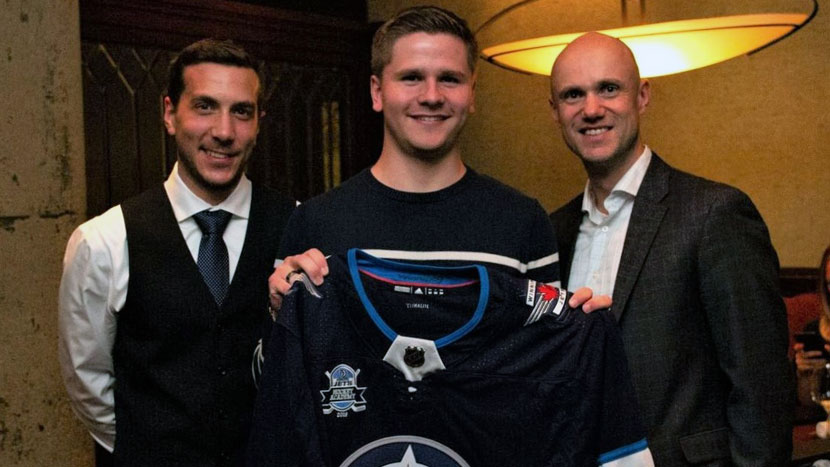 One of this year's 12 graduating students from the Winnipeg Jets Hockey Academy (WJHA) has officially started his road trip to Kansas where he will be taking Business Administration in the fall. Before hitting the road, Tobie and his family stopped by to drop off a thank-you basket for the WJHA team.
"From the bottom of my heart I want to give you all the thanks in the world for the fantastic opportunities! My time reffing, timekeeping and working for Skybridge have been such a blessing. You have really developed my skills both on ice, in the classroom and in the work environment. I will never forget the program and what you've done for me. Everyone works so hard to teach lifelong skills and the fact you guys do it through the game of hockey is absolutely awesome! Thanks for the memories and helping me create life-long relationships with the kids and mentors in the program. With all the best luck to you, and the continuous success of the Winnipeg Jets Hockey Academy."
Tobie's parents also wanted to take a minute to say thank you to coach Murray. "You've been there from day one, when Tobie first began Little Moose, before he could even skate! It means a lot to us, and we don't take it for granted. We appreciate every opportunity Tobie has had through the academy. From hockey games at Bell MTS, to playing club hockey, to reffing, all the way to his current job at Skybridge. He's also been so thankful to get to know such great guys as yourselves – you, Nick, Corey, and everyone else! We honestly can't thank you enough. It's been such a great learning experience, and in many ways made Tobie a better young man. You've been great role models, and we've loved having you be a part of his life, as well as ours! (and both our daughters!) We know he'll miss you, and being part of the team! Once again, thank you for everything!"
From learning hockey skills to employment, graduation, and a scholarship at an American university we wish Tobie the best of luck as his journey continues. We are excited to have his sisters in the program and keep learning about his progress.